It's been a little while since I last made any updates. Part of that has been because I've been working on a wholly different landscape within Organica.
Many of you who are familiar with what I make will have noted that the majority comes from temperate or boreal regions of the world. While I will continue to make new products along those lines, I've decided to diversify the product offering and provide a new area of the sim to explore. When TPing in to the sim, you should find a directory nearby – just ensure all move locks/assists are turned off, then click 'The Desert' to be teleported to the new area. Alternatively, you can also use this handy SLURL to reach it directly: http://maps.secondlife.com/secondlife/Organica/148/130/1001
Please note – the majority of this area is built with mesh assets, so please ensure you are running a viewer which supports mesh (or all you'll see are giant spheres).
The new area will be largely explorable, with a small vendor area near the landing point for purchases. If you need help finding anything, please let me know.
With that out of the way, here are a few new releases: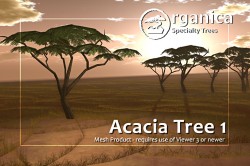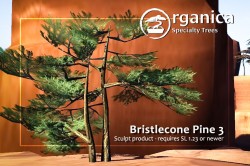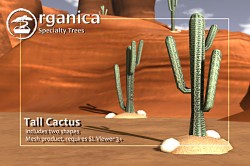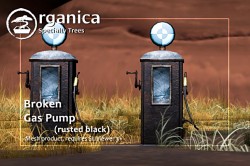 Trees available mod/copy and mod/trans, cactus and gas pumps available mod/copy only. Please remember you can give any item in Organica as a gift by left-clicking the vendor box first to get the gift dialogue 🙂