Two new products released this week!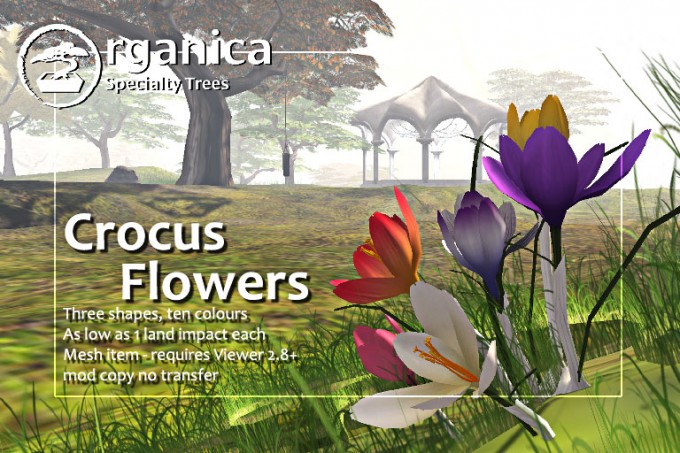 These beautiful flowers are offered in three shapes for a variety of arrangements. They come in ten different colours individually and in a fatpack. No alpha textures used – no texture flipping! Buy a fatpack of crocus and save up to 33%! Each flower is as low as 1 land impact count and is mesh, so do ensure you are running SL Viewer 2.8 or newer. Offered mod/copy/no transfer. ( Buy in Store ) ( Buy on Marketplace – Fatpack – White – White/Purple Veins – Yellow – Yellow/Purple Veins – Pink – Creme – Amethyst – Lavender/White – Blue/White/Purple – Orange/Red )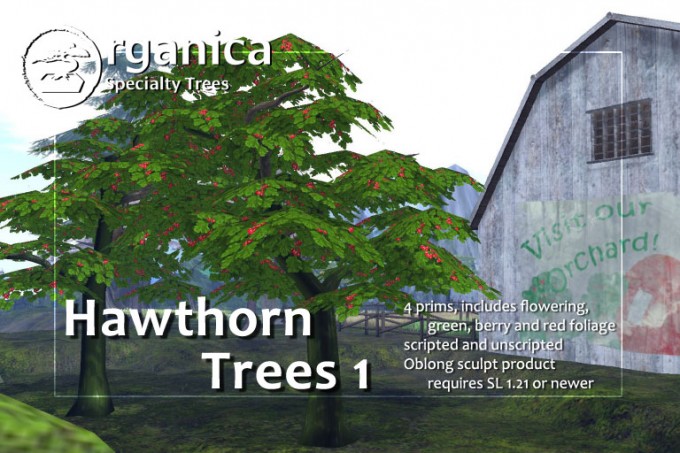 Hawthorn is a large family of plants that features unique foliage, small white flowers, small red berries in the summer and bright red foliage in the autumn. Offered in tree form, this product comes with four foliage types, scripted and unscripted.  Oblong sculpties – requires SL Viewer 1.21 or newer. Offered mod/no copy/transfer and mod/copy/no transfer. ( Buy in Store ) ( Buy on Marketplace )
Land:
Three parcels are still available in Sylvan. Some changes were made to parcel 7, which is now two parcels. If you are looking for a smaller lot, one is still available and situated just next to the Falls.
Full parcel details as follows:
| | | | |
| --- | --- | --- | --- |
| Parcel size | Prims | Weekly price | SLURL |
| Parcel 6 – 1760sqm | 973 | L$1752 | SLURL |
| Parcel 7A – 1120sqm | 448 | L$806 | SLURL |
| Parcel 9 – 1584sqm | 633 | L$1140 | SLURL |