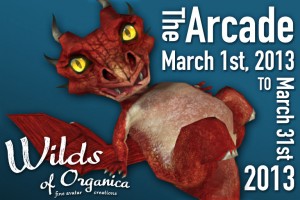 Wilds of Organica will be participating in the March run at The Arcade!
For those not familiar with the event, The Arcade is a great opportunity to pick up completely new and original pieces of work from many of SL's top content creators!
It's a giant gachapon (random prize machine) festival that's running March 1 thru 31st, and it features a boatload of great merchants, whom I'm humbled to be participating with. Participants offer a set number of items ranging from fashion to home decor and beyond for low prices and limited availability.
Wilds of Organica has created a special tiny dragon avatar for the occasion and more details will be unveiled closer to the event, so keep your eyes open for further news!
New to Organica Sim: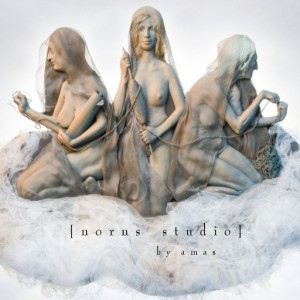 I'm very pleased to welcome Norns Studio to the Organica Commercial District.
As per Norns Studio's press release:
February 15, 2013 – [ norns studio ], the first fine art gallery located at Organica, has its grand opening on Friday, February 22, 2013 with a reception from 7 – 10 pm SLT.

The opening exhibit will highlight the work of artist, Kelly Judd. Kelly Louise Judd received a BFA from Kansas City Art Institute in 2002. She continues to live and work in Kansas City. Victorian Illustration, fairy tales, abnormal psychology, and Northern Renaissance art are just a few of the things she is inspired by. Celebrate these limited edition prints as a suitable gift for the loved one in your life or to enhance your personal environment.

"I know amazing artists and, over the years, many of them have asked me to help them promote their work.
It has always been my dream to open an art gallery, and when I found this great space, I knew the time was right," says Amas Veritas, owner of the gallery. "The goal is to place our artists' work in a wide range of public and private collections."

The [ norns studio ] is the newest addition to Organica sim, owned by Aki Shichiroji, The dynamic, tri level open gallery exhibits emerging, mid-career and established artists creating contemporary works on paper, paintings, fine art photography and assemblage. The focus of [norns studio] is the 'promotion for creative development '. The gallery offers an unforgettable experience for those who appreciate the beauty of fine works of art.

Owned and founded by Second Life resident Amas Veritas, the gallery serves as a connection to a wide range of art styles, mediums and approaches from all over the world. These artists are all known personally and professionally by Amas. These limited edition prints are only available at [norns studio]. The gallery plans to hold future shows featuring an international group of work with established names, as well as emerging artists.

As an art collector herself, Amas believes that a work of art that truly reflects the collector's unique personality will provide a lifetime of pleasure. Amas Veritas, graphic artist in RL welcomes you as she weaves and creates lifelike portraits that bring your avatar to life. http://nornsstudio.wordpress.com/.

For more information, please contact:
Amas Veritas, Gallery Owner and Director
paige.peapod@gmail.com
Organica News:
Finally, I'm pleased to announce that Organica has joined the excellent merchants located at The Nest Home & Garden Shopping Town. I look forward to bringing a selection of my work to this neat space and invite you all to visit the new location as well as explore the rest of the town!
Along with this new location,  the main store, which includes landscaping and home decor items, will now be known as Organica Specialty Landscaping & Home Decor. The transition will be gradual and overall the change should be minimal to those who are already familiar with the brand, however I've been wanting to redefine and clarify my personal goals for Organica for quite some time, and hopefully this change will make it easier for folks to find things I make which were perhaps not so easy to find previously. Ideally, trees, plants and other landscaping items will continue to be produced, however I'd also like to dedicate some more space and time decor and building items in the near future.
Land
Six parcels of land are now available in Sylvan region for residential use, ranging from 960-1680sqm at a 1.75x prim bonus, L$1.8/prim/week. Beautiful alpine-themed environment, your ideal next home!  Drop by the Sylvan Land Office for more details!