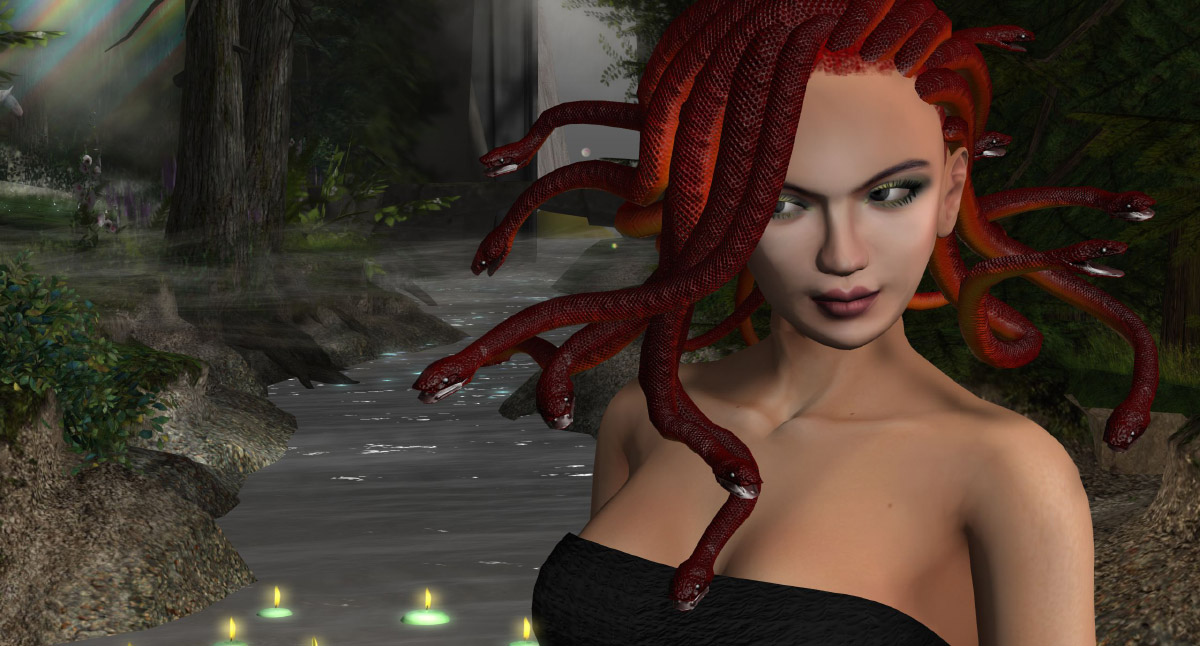 Thank you for your interest in this new Wilds of Organica product!
This set of Gorgon hair includes:
[ WoO ] Gorgon Hair (colour)
[ WoO ] Gorgon Hair Base Applier (colour)
[ WoO ] Gorgon Hair Base Tattoo (colour)
Please ensure that you have updated your Second Life Viewer – While you will be able to attach all items included in this package, your viewer MUST be version 6.0.0 or higher to view this product correctly, otherwise your avatar will appear very distorted and folded in on itself.
Advanced Lighting Model is also highly recommended for accurate viewing. Shadows do not need to be enabled, but this product includes both a shiny and bump map to complement the baked diffuse texture.
To use,
1) Attach the hair mesh
2) Either wear the Base Tattoo (if you are using a system avatar) OR attach the Applier HUD if you are wearing an Omega-enabled head.
3) Once the HUD has been attached, you can click 'Click Here to Apply' to apply the default settings for your hair base. You can do some additional material and tint tweaking with the HUD. Click the (?) button for more details.
4) Once you have used the applier to get the hair base the way you want, you can detach it.
Most parts of this object are copy-only, but the main Gorgon Hair mesh itself is mod/copy. This allows for custom textural and material modifications, as well as the removal of scripts.
With that said, there are a few caveats: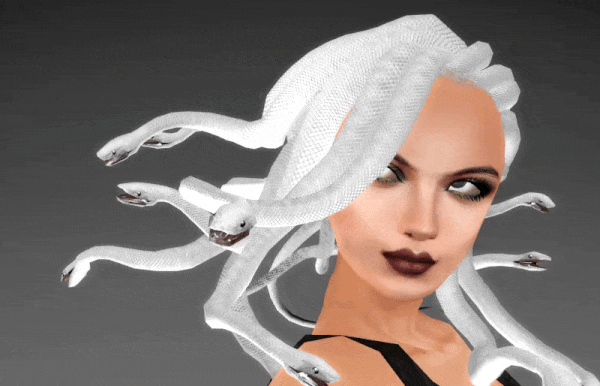 FYI:
The Gorgon hair is animated by default and will move around upon wearing. If you want it to stop, you MUST:
1) Rez it on the ground and select it via Edit mode.
2) Remove the script from the object.
3) Take back to inventory & wear.
It's suggested that you keep a fresh, unaltered copy of the hair in your inventory just in case. A redelivery may be requested should something go awry; just click the vendor for your hair in-store and click the appropriate 'redelivery' button.
Due to the nature of Animesh, the hair is not resizable. It must also always be set to 'Animated Mesh' on the 'Features' tab, otherwise you will experience avatar distortion and folding over.
The hair is sized to fit the average female human avatar head. Additional sizing considerations should also be taken in to account, as significantly diminuitive avatar height may cause excessive clipping in the shoulders.
Additional sizing suggestions shall be considered based upon popular demand, however bespoke (custom) changes will incur hourly charges at a minimum of US$25/hr.
All updates are free and will be automatically pushed to your account when issued.
Acknowledgements:
Thank you!