Today, I'm glad to announce that the Kitten avatars are undergoing a long-awaited update, which includes additional Bento functionality plus a brand new animation override. This updated avatar is now available in shop, along with one completely new line – the Bicolour coat pattern!
If you already have one (or more) of either the Tabby or Cheshire avatars and purchased it off the Marketplace, you can expect an automatic delivery for each within the next twenty-four hours. A limited number of recent in-store purchases will also receive this automatic update. If you do not receive your update by Jan 17 2018 (EDT), please see below before contacting me by IM:
If you purchased in-store prior to Christmas and do not recieve an update automatically, please come to the main shop and rez your update token (found in your original Kitten package). There may be a delay but you should still get your update that way. If it times out, please contact me (Aki Shichiroji) directly by IM.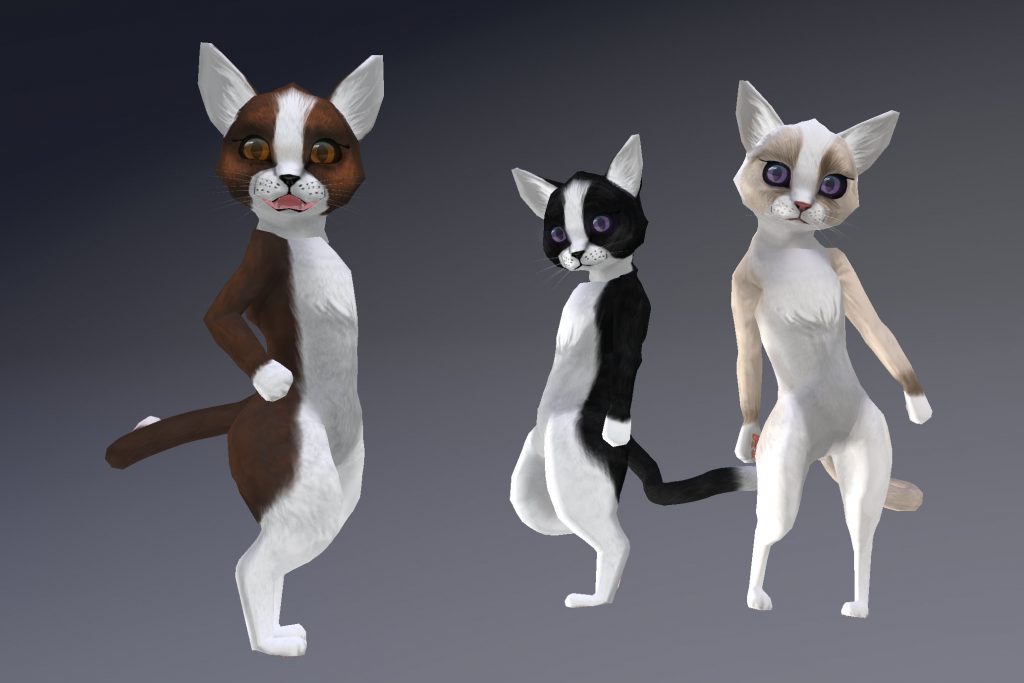 This new bicolour pattern is very much intended to reference the 'tuxedo' look that many bi-colour cats have. Five colours are available in this line and these new kittens will include Bento functionality, just like the updated originals!
Changes (2018/01/15):
– Facial and tail Bento support
– New Animation Overrider HUD featuring advanced facial animations specifically for this avatar
– Update system now also uses the blue circle exchanger system (Read the included notecard for full details).
Known issue: RFL Purple Cheshire has not been addressed in this update but will be within the week. Please stay tuned for further info.
Relevant inquiries:
Will the applier system used for several other recent releases also be used for the kitten avatar?
– While the possibility is not closed to this, the logistics are non-trivial. The Applier system will not be applied to the kitten avatars at this time.
Will dev-kits and/or clothing be made available for these avatars?
– Both are being taken in to consideration at this time and both are very likely. Again, the logistics of packaging and managing a growing number of coats for this avatar are something that I need to become accustomed to before I will have time to address either. Please IM me to let me know of your interest!
Will animesh support be provided with this avatar?
– It's a bit early to comment, but animesh for this avatar is quite likely. In all likelihood, Animesh support will involve a customized kit that can be dropped in, but given that these details are rather abstract, the final execution may be somewhat different. There are also some non-mesh and non-rigged components which would need to be converted for use with Animesh should a conversion occur, so I would need to account for the additional time cost for this work.
Stay tuned to the Subscriber Kiosk or the in-world group notices for further news about this or other releases from Wilds of Organica! Join the Subscriber kiosk ( here ) or the in-world group ( here )!
Thank you for your ongoing support!
---
If you like what you see but don't think it's quite right for you, perhaps consider donating to my Patreon? Your continued support helps to produce weekly content (written, modelled, animated or otherwise) and helps to keep original content creation in Second Life!