The Releases:
I've had some requests for more compact and upright trees that are more suitable to both urban and rural areas. Coupled with the desire to put out some more autumnal offerings, the results are as follows!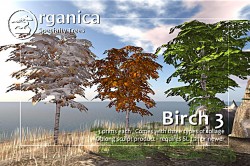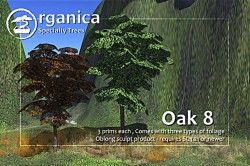 Both trees are low prim at 3 prims each. They come with three foliage textures, both scripted and unscripted, mod copy and mod transfer.
As always, they can be found at Organica sim.
Mod/Copy editions can also be found on the Marketplace as follows:
Birch 3: https://marketplace.secondlife.com/p/Organica-Birch-3/2736086
Oak 8: https://marketplace.secondlife.com/p/Organica-Oak-8/2736102
The Land News:
Six new parcels of land have been made available this month in Sylvan sim. If you have always wanted a spot in this quiet sim, now's your chance. There are three parcels left, in the north-east corner of the sim and all parcels in Sylvan now have a 1.75x prim bonus, which means you can have 75% more prims on your parcel than you would normally.
The details are as follows:
| | | | |
| --- | --- | --- | --- |
| Parcel size | Prims | Weekly price | SLURL |
| Parcel 7 – 2432sqm | 973 | L$1752 | SLURL |
| Parcel 8 – 1696sqm | 679 | L$1223 | SLURL |
| Parcel 9 – 1584sqm | 633 | L$1140 | SLURL |