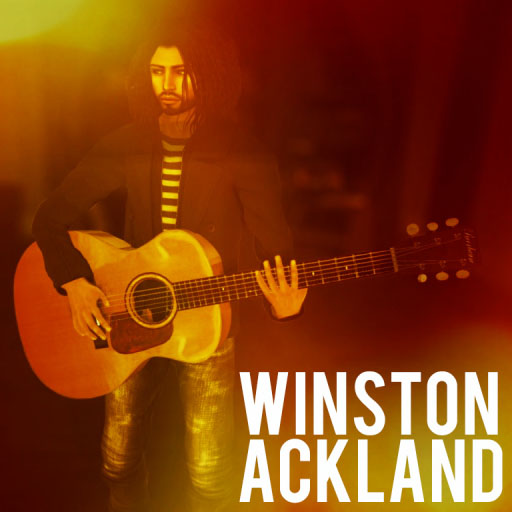 Alongside the store-opening, store-wide hunt and new items to be released (full details in a forthcoming post), I'm pleased to announce that Winston Ackland will be performing at 12PM SLT on Saturday, Sept 14 2013 to help celebrate the store re-opening! Join us at here at the Organica open-air stage!
[box] Premier Second Life live performer and real life music professional, Winston Ackland provides smiles with his clever original works and quirky adaptations of obscure covers. Somehow, it all makes sense as audiences relax in a comfortable atmosphere and enjoy innovative songs crafted from a blend of rock, bossa nova, jazz and lounge. Winston is able to connect with in-world audiences like no other.
Simply put, Winston Ackland is a musical party with old friends you haven't met yet.
Winston left the SL music community in April of 2010 to pursue creating home goods inworld and he and SL/RL wife, Sesi Ackland, had great success with Little Boxes. Sesi and Winston closed the pixel doors of Little Boxes in the summer of 2012 and logged off for nearly a year.
Accomplished RL musician for over 20 years. December of 08, RL and SL merged when Winston's cover of "Lithium" hit the big screen in 20th Century Fox Films blockbuster hit, "Marley and Me".. and again in the summer of 2012, when Winston's cover of "Psycho Killer" was featured in Oliver Stone's "Savages".
Website: http://www.myspace.com/winstonackland
http://www.cdbaby.com/Artist/BruceLash
http://www.brucelash.bandcamp.com/
Winston's groundbreaking music video, "All the Little Fishies" is a Second Life Showcase Machinima feature. It can be seen at http://www.youtube.com/watch?v=72C5IdTw4B0
Winston in the press:
New World Newsfeed: Leading Second Life Musician To Be Featured in Owen Wilson/Jennifer Anniston's *Marley & Me*(via New World Notes)
Dream With "Fishies": Real Life Mysteries Explored in a Machinima Music Video Set in the Metaverse(via New World Notes)
Appearance on Tonight Live with Paisley Beebe [/box]