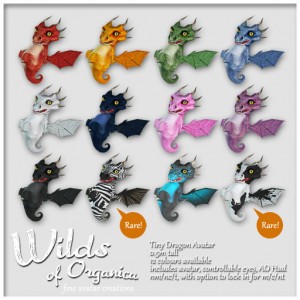 I'm all set for The Arcade – are you?
The Arcade is a quarterly event featuring creations from a great selection of merchants, all offered at discounted amounts for random prizes!
The above twelve varieties of the Tiny Dragon Avatar will be available as transfer-only gacha items (with option to lock-in mod/copy edition) only at The Arcade for the duration of the event (Mar 1 to Mar 31, 2012), then only as a gacha item in-store after that.
For more information about the avatar, including instructions for use and to learn how to lock-in the avatar to mod/copy status, please check out the Tiny Dragon Avatar info page.
The Arcade opens March 1 and runs through to March 31, 2013; see you there!