Organica is participating in this years Home and Garden Expo, which runs Sept 16 thru 28!
For the duration of the event, the following new releases will be exclusive to the Expo!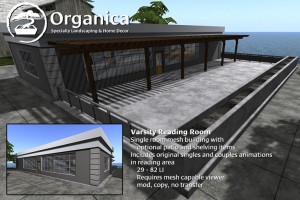 This one roomed structure is the latest in a set of builds which intend to make use of small spaces, both on the ground and in the air. Included is a version with and without the patio. Without, this structure will fit comfortably on most standard shaped 512sqm parcels. With the patio, it will fit on a 1024sqm parcel. This build features a comfortable reading area along with a flexible open-concept area for many uses, including use as a residence, cafe, or more. The patio includes a trellis for shade, as well as planter area ideal for any plant arrangement. With all optional items removed, this build can be as low as 29 LI (no patio, no books linked) – with books linked, the build is 77-82 LI, depending on whether the patio is linked. The build is mod/copy with some copy-only animations and some no-mod scripts. See it in person at my build at Home & Garden Expo here.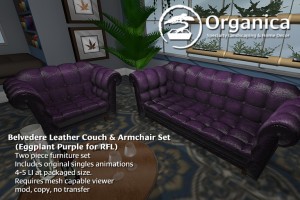 Additionally, a new couch and armchair set is now available in purple, brown, black, green and red, with all original animations and carefully detailed and realistic textures! This is a great addition to any cafe, lounge or home! Mod/copy, with copy-only animations and scripting.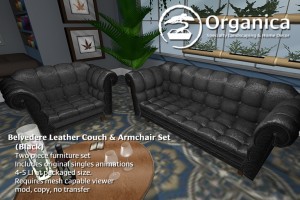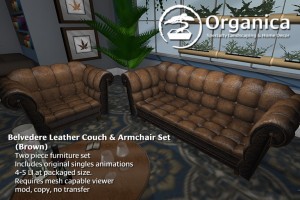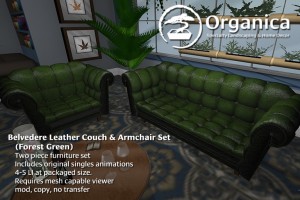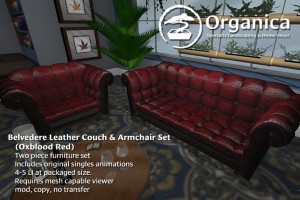 100% of the proceeds from the Eggplant Purple Belvedere set,as well as the Varsity Reading Room will be donated to the American Cancer Society for the duration of the Expo.