Starting tomorrow (July 1, 2013), along with 47 other Home and Garden shops,  Organica will be participating in The Home Show, which runs from July 1 thru 31 at Le Petite Roche and Argentina Amor sims.
Four new items will be exclusive for the duration of the event and are as follows: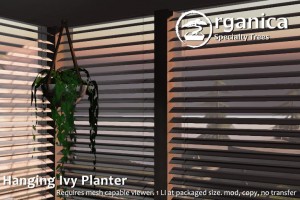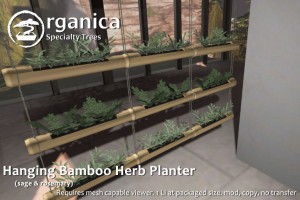 Both of the above items are great for indoor or outdoor use. They are each 1LI and being mesh, require at least a mesh-capable viewer. Fill in those empty corners or perhaps divide up a large empty space? Or maybe hang from the eaves of your new home? Additionally, while both of these look great already, you can further decrease alpha flickering by using a materials-enabled viewer and enabling 'advanced lighting'. Mod, copy, no transfer.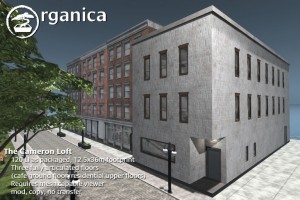 This new building features three fully built floors, detailed textures, a cafe on the ground floor and a loft on the upper floors. It's 120LI at packaged size (unfurnished) with a 12.5x36m footprint.You'll also be able to preview this new building on-site at Organica. Mod, copy, no transfer, with some copy-only scripts.
Finally,
These new espresso machines are currently props and would be great additions to any cafe, restaurant or home kitchen. Included in each package is a regular and materials optimised edition – while the product features quality baked textures, the addition of materials allows for more realistic metal gleam and overall more quality glossiness. 1LI at packaged size, mod, copy, no transfer.
Find all of these items and MORE in Organica's booth at The Home Show!