It's nearly been a month since my last post and just to catch folks up to where things are at now with Organica, The Home Show closes in a couple of days, so if you would like to explore a great collection of home and garden decor shops all in one place, you only have a few days to do so. Organica items which were showing exclusively at the event will make their way to the main store and you'll be able to pick them up like any other normal release.
Additionally, I neglected to include a non-exclusive release in the last blog post – it was an item released at the same time but also available at the main store: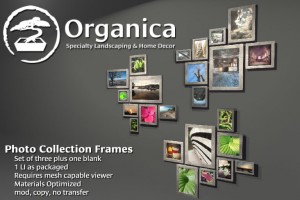 This package of photo frames features three collections of photos I've taken over the past three years. It also includes a blank copy of the frames, which would allow you to add up to 8 of your own photos! It's unscripted, mesh, and optimized for materials-enabled viewers. 1LI each, mod/copy/transfer. Available in store and on the Marketplace.
New Releases:
Folks who have dropped by within the last week or so may also have noticed the following other new releases, available on the grounds and in the main shop:
These new additions to the Alder line are lightweight mesh trees featuring upward or 'apical' growth and foliage for multiple seasons. Each package includes unscripted green, autumn and winter foliage trees, as well as one scripted version which switches between the three. Alder 3 is a single tree at 12LI (at a packaged size of 12x16x25m), while Alder 4 is a cluster of trees coming in at 5LI (at a packaged size of 14x11x16.5m). Both trees are available either as mod/trans or mod/copy editions and both are now available in the main store or on Marketplace (Alder 3, Alder 4).
Next, a new building is now available, suitable for both ground and sky use.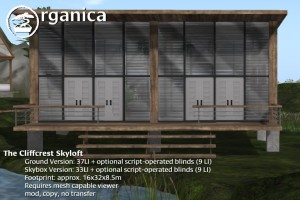 The Cliffcrest Skyloft was initially conceptualized to be modern skybox taking advantage of large windows and a skylight to let in light. As such, while there is slight shadow baking applied to this building and all users should be able to enjoy it that way, it is suggested that you enjoy this building with deferred rendering enabled.
This build allows for some limited modifications – the build is divided in half, but the central wall can be removed, as can both balcony railings, foundation posts and stairs (on the ground version).
By default, each coalesced object included in this package includes script-operated blinds for control in opacity. These are optional and not directly linked to the building, so you can use or remove them as you see fit.
The overall layout is also intended to be useful for either residential or commercial use. Available mod/copy, in-store on the grounds as well as on Marketplace.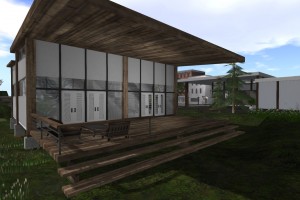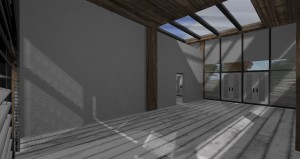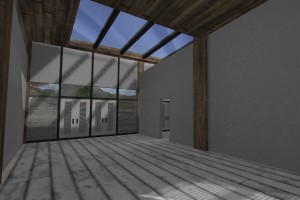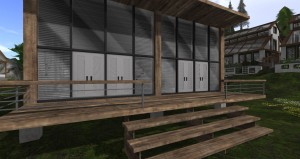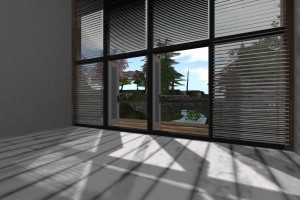 Retirement Sale:
It's been almost a year since the last major store sale and revamp, and in preparation for some major upcoming changes, a variety of products have been marked down and will remain so until they are permanently retired on August 17, 2013.  PLEASE NOTE: mod/trans versions of discounted items are being retired immediately – they are no longer available. If you wish to send a copy of these items as a gift, please left click the vendor box and follow the directions.
After August 17, the store will be closed temporarily, after which I am excited and look forward to introducing many new products!
Drop by soon and check out the new items and sale, here!