Greetings!
I'm recovering from a couple of setbacks this week. I have been recovering from a bit of a cold – the weather here is warming up slightly, which always means more colds and flu floating around.  That said, I figured I'd update you of my progress on the corgi.
Animation has been progressing well. Our corgi can now walk, run, jump, swim, crouch, sneak, and has some limited ground sits. I'll be working on some object sits soon. At this time, I'd say the animations are around 70% done, although I'd like to do some more specific animations that will also take advantage of sounds and keystrokes via SL's gesture assets.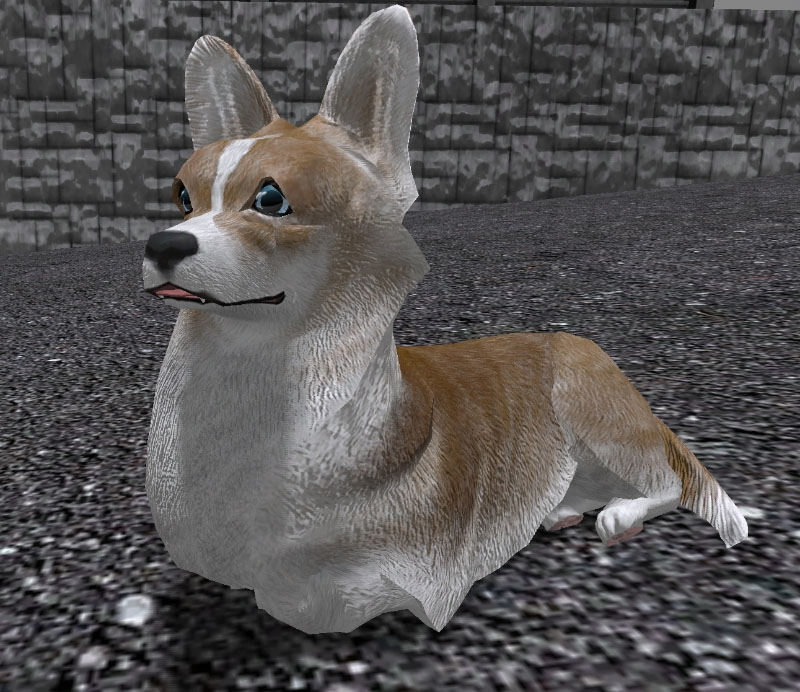 Textures have also been dialed in a bit from previous posts, with the help of Substance Painter (which underwent a major UI change recently). It's been interesting to make use of their texture resize feature, which allows for quicker brush stroke application at lower resolutions but which preserves the type of brush stroke if you need to flip up to higher resolutions, allowing for the higher detail to be preserved as one sizes up.
Predictably, all of this brush stroke recording does become a bit memory intensive, so I predict that some export to Photoshop at some point will be necessary for me as I begin to work in some of the other coats I want to work on.
Fantasy Faire arrives soon (next month – runs April 19-29) so moving forward, I'd like to tie this up and revisit the wyvern for use as an avatar before addressing some other Fantasy Faire exclusive editions for certain items. Additionally, you can look forward to some Organica content soon at Bloom (also next month – Runs April 15-30).
It's still unknown as to whether Animesh will be made available on the main grid by Fantasy Faire – In all likelihood, I doubt it. Linden Lab has always been reticent to put out a specific deadline for releases like this and as of the most recent meeting, true testing for final LI accounting and poly-count limits has not yet concluded.
It's for that reason that I'll be mostly concentrating on avatar-related releases for this year's Fantasy Faire – and if the opportunity for Animesh arrives subsequent to that, I'll deal with Animesh kits as the need arises.
With that said, what kind of animations and functionality would you like to see out of a pet corgi?
Leave comments below or message me directly in-world at Aki Shichiroji.
See you next week!
---
If you enjoy what I'm doing here or think someone else might also find it of use, please feel free to share this blog with them. If you'd like to keep up to date with posts, the RSS for this blog is here, I can also be found on Twitter and Plurk. The Discord server is here.
If you really like my stuff, perhaps consider donating to my Patreon? Your continued support helps to produce weekly content (written, modelled, animated or otherwise) and helps to keep original content creation in Second Life!
Thanks for your support!