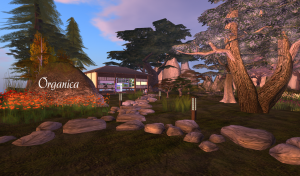 It's been a busy for me this week.  On top of keeping up with work stuff and taking a few days to do RL errands and the like, keeping an eye on the Home, Garden and Patio Expo has been an interesting and educational experience.
 
There have been comments here and there about lack of publicity and a slow expo overall.  I can't say I disagree – I really didn't see much advertising for the event until at least a couple days in, and would never have joined had i not seen one very small listing about a month back on the SLU forums.  Things seemed rather low key for the whole period between registration and show, so I really have to wonder how much attention promotions got.  I don't mean to slam the team that organized the event, however, beyond a few forum postings and a little plurking here and there, I saw very little chatter about the event outside of the few home & garden blogs I keep an eye on.
Merchants did not recieve any official promo material beforehand to put in their stores or post to their blogs. Posters carrying landmarks for the event were sent out a couple days after the event began. If there were any banner ads taken out on Xstreet SL  or SLU, i never saw them.  I'm told someone did eventually see a link to the event on the tip of the day dialogue – never actually saw that myself, unfortunately. It is also unclear to me whether there was ever a central blog of any sort announcing changes, new merchants, or whatever – not essential, but would have been nice, since so many people seem to take to SL-related RSS feeds so well.
While there were many live music and DJed events held at the four corners of the Expo sims and they certainly seemed to draw in traffic, it didn't seem like a lot of that traffic stayed around to circulate around the show.  This is the sort of thing I refer to when I say traffic doesn't necessarily do a lot if you're relying on a single traffic draw to transfer interest to other things – IE: Traffic doesn't necessarily equate to success.  That said, ultimately I'm sure the goal of the All-Stars RFL group was to generate donations to RFL – and ultimately if judged by donations at the Live Music stage alone, I'm sure they did well.
***
Overall, the sims were laid out reasonably and the sims were, for the most part, not too laggy (for me at least).  Surprising, considering builds and scripts were the biggest complaints at last year's Hair Expo.  In any case, I saw a decent variety of content – prefab, furniture and landscape content were all fairly well represented, though surprisingly to me, there seemed to be a larger contingent of content makers I was not familiar with.  Kind of the point, really, but i was surprised not to see contenders like Trompe D'Eoile, Maximum Minimum, Melino Style etc.  
Instead what I noticed was that there is an active creator community centered around lower prim, more economical solutions, tailored for landowners with limited space and prim alottment.  Quality varied considerably.  Sculpted solutions were of course rampant throughout the four sims, however it was surprising to find a number of overly simplistic furniture solutions that I can recall seeing (and even myself making at some point) many years ago. 
In this respect, I found (and have often found) that the home, garden & patio market has always been significantly less competitive than other markets, such as the hair, clothing and jewellry markets.  While it's true that there's likely less demand for these items since many Residents choose to adorn their avatars before even thinking about owning land, I think it's still very important for makers of home, garden and patio content to be a little more competitive and strive towards higher standards.  This would serve to improve demand for items in their market overall. As SL continues to grow, it will be abundantly more important for content creators to recognize what customers are looking for and carve a niche for themselves, becoming the best at what they do.
***
As an individual merchant, I had a good experience.  Things weren't *crazy*, but Organica did reasonably well and saw a fair jump in sales this week.  Late last week, merchants were given an updated map for their assigned lots, and that sorta set me in a tailspin about how to make my design work a bit better for the space.  After some consternation, I was able to fix things and package the whole shabang Saturday night, dropping in vendors late night Sunday.  I found the busiest day to be the first, subsequent days wavering somewhat, but I still saw traffic each day.
I was able to make back my registration fee and a bit besides.  L$6,700 were raised through the RFL item vendors, and the silent auction donation for landscaping I last saw was bidded up to L$18,100 (*woot*).  I really look forward to connecting with the winning bidder and getting things rolling for their landscaping project.
In any case, I was glad to be there, regardless of the fact that things were a bit slower than Expos for other markets.  It was cool to see new and old visitors drop by and provide feedback, and I think I would certainly join in next year given the chance.  I would just hope promotions for future events would be a bit more active.