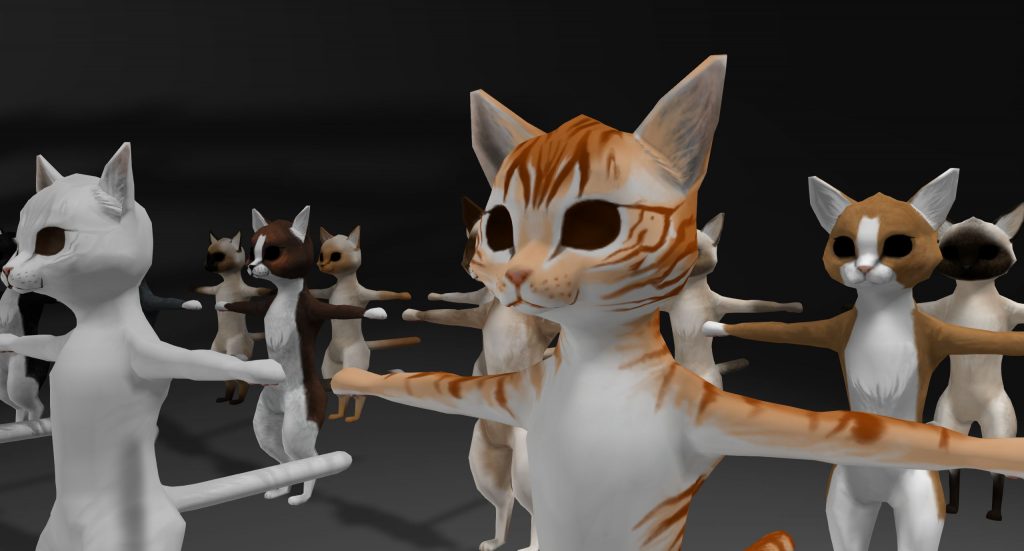 As I mentioned a few weeks ago, a variety of changes have been in the works for the kitten avatar. This week has been characterized heavily by creation of two new series of coats for them – you can look forward to bi-colour and siamese coats in the short term future. Additionally, updates are being made to the existing tabby & cheshire coats which take in to account new geometry and animations.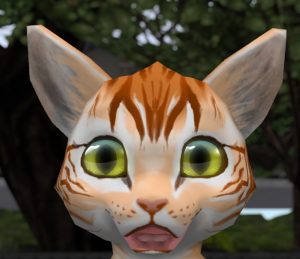 There's still a ways to go – part of the new work on these kittens has to do with a new mouth – and I still need to propagate these to all of the head textures. Teeth will also be added. Edge touch-ups and tail coat matching are also necessary.
I'm still thinking about the best way to implement facial animations for this avatar – In all likelihood I'll be implementing it in much the same way that facial animations were handled with the FishEyes and Yetis, although this would confine the provided animations to a maximum of eight. Additional tinkering will also be possible using facial HUDs like the one put out by LightStar.
LOD optimizations are complete. Some tweaks to the top level mesh are also in order. Setup for compatibility with the exchanger/updater is in the works. Testing and repackaging are on the horizon.
I've had the chance to explore SL a little bit as the drider this week and (apart from a common unease around spiders 😉 ) generally have received positive response. Animation for the avatar continues and I'm looking forward to making at least one version of the avatar available some time in October.
Additionally, some time this coming or next week I'll be working on landscaping and accessory items for both the Halloween and Xmas season, with Candy Fair stuff next week as well. If there are particular things you wish existed in SL that fall in my wheelhouse, do give me a shout via IM and I'll consider putting it on my list!
---
Support my content creation in SL and other virtual worlds by becoming a patron on Patreon! Along with keeping up with new releases, you can keep up with personal and work project writeups, see sneak-peeks of upcoming content,  be informed once new videos are up, access to Patreon-exclusive content, giveaways and more! Check out my Patreon page, here: (link)