The Drider's moving closer to release! If all goes well, you can expect to see a release within the next 7 to 14 days.

On top of some client work I undertook earlier in the week, a variety of under-the-hood changes and additions took place for the Drider, involving animations, HUD graphics, additional leg hair geometry, LOD optimization, & documentation.
The avatar comes in at about 8LI, which is quite good considering LOD compromises had to be made in order to maintain silhouette at the 'Low' level. A fair number of my other gacha avatars are also in this range.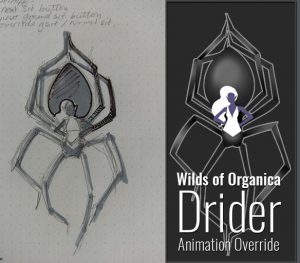 Over the next couple of days, I'll be refining the documentation, working out final textures, refining animations, packaging and seeking out testers for feedback! If you're already a Patron at any donation level, you already have preferred access for beta-testing this avatar – Otherwise give me a shout and I'll put you on the list of folks to nag for feedback 😉
I'm really happy that this has come along as quickly as it did and really look forward to releasing it for the Halloween season. If you have any particular colour/pattern requests, this is probably the time to IM me with them. I can't guarantee they'll make the cut, but I will certainly consider them.
---
Support my content creation in SL and other virtual worlds by becoming a patron on Patreon! Along with keeping up with new releases, you can keep up with personal and work project writeups, see sneak-peeks of upcoming content,  be informed once new videos are up, access to Patreon-exclusive content, giveaways and more! Check out my Patreon page, here: (link)