It's still blowing dry, powdery snow here in Toronto, but the days are slowly growing longer and with them the hope that something resembling spring will appear shortly. While winter in SL is quite pretty, having the option of renewing one's landscape from bitter winter to tender spring with relative ease has always had great appeal to me.
It's with that in mind that I'm happy to announce a new Cherry Tree from Organica!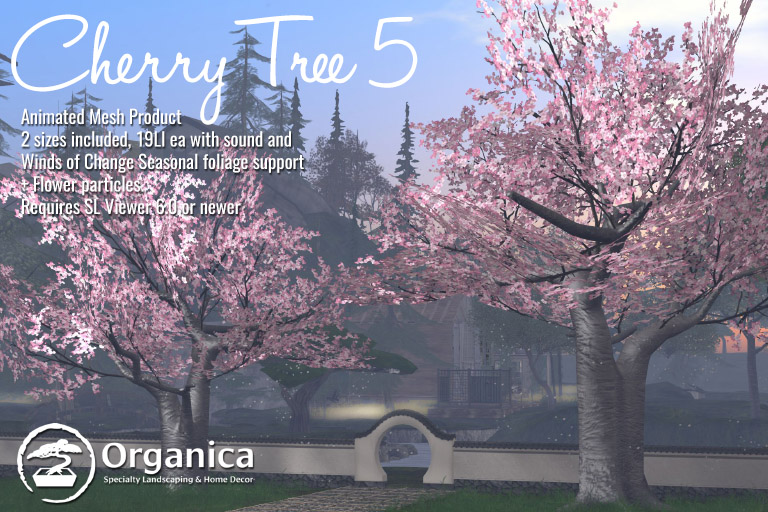 Among a number of other projects on the go, this newest release has weighed heavily on my recent project list, due to amount of animation and troubleshooting that needed to take place. It's been a few years since I last released a cherry tree, so I wanted to put together something substantial which would also reflect what tools we have at our disposal now, as far as content creation goes.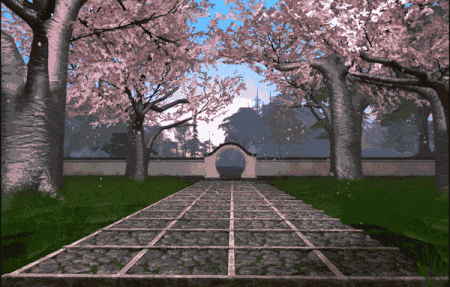 The tree is Animated Mesh, which means it is designed to sway on its own and will move naturally in its environment. It also means this tree is not resizable, although I am offering two sizes by default for your convenience. Included are Spring, Summer, Fall, Winter and Dead foliage options, along with the option to turn on flower particles. The tree is also fully compatible with the Winds of Change Seasonal Control Module, so foliage across a whole region or parcel can be changed with just a few clicks, rather than by individually by each tree.
Full details on the Organica Animesh Tree System can be found here: http://www.akimeta.com/organica/?page_id=2993
Much thanks go to NeoBokrug Elytis, who has spearheaded the scripting portion of this project and who also integrated the particle system for this tree.
This tree is available now, on-site at Organica here: http://maps.secondlife.com/secondlife/Organica/68/197/31
It's also available on the Marketplace, here: https://marketplace.secondlife.com/p/Organica-Cherry-Tree-5/16742898
Please note: As this is an Animesh product, You'll need a viewer supporting SL version 6.0 or newer to view this product!