True to my previous post, I'm pleased to announce that I'm releasing four new items this week.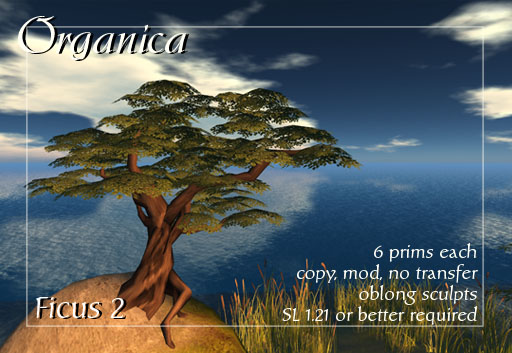 The second edition of Ficus trees are now available, using 6 oblong prims each, for your prim economy. These lush tropical trees are perfect for filling out a jungle or perhaps adding a vine motif to your backyard.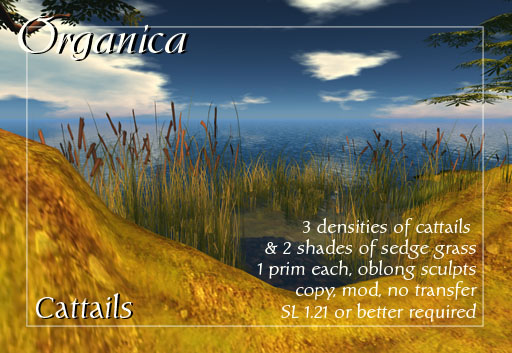 Cattails, available in 3 densities, great for swampy or other waterside areas are now available. They also come with some supplemental sedge grass in two shades, appropriate for summer and autumn.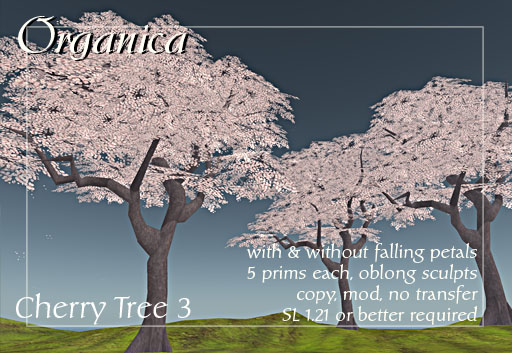 A lighter prim edition of cherry tree is now available, now with and without falling petals! (Previous editions did not have particle generators) For falling petals, simply rez the 'with particles' edition. You can click it to turn them on/off. To conserve client and server resources, however, it is recommended that you use the particle emitting trees sparingly.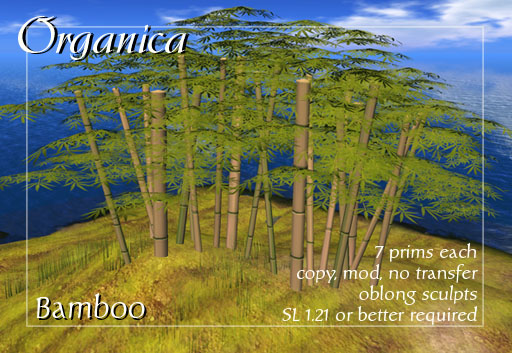 Lastly, I've released some bamboo, also featuring oblong sculpts in their design. These are great additions to an eastern-themed garden either to help fill out an empty space or to provide a unique backdrop.
Recent visitors to the main store will also note that I have added some space for new trees. Hopefully this will last us for some time, however i might well add an additional level for new product (or simply retire and entirely remove old discount product). I will also likely try to fix up Organica East as best I can, as things have been getting rather crowded there of late.
That's about it!
Thanks to all of you for your ongoing support and feedback 🙂