I'll be releasing two new items through this month's Spruce Up Your Space: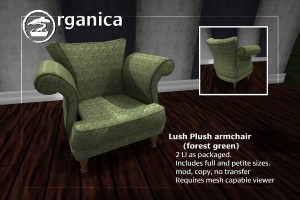 This plush armchair is modelled and textured with great detail, featuring baked lighting and intricate pattern. It includes six seated animations and is offered both at full av size and Petite size. A mesh capable viewer is required. mod, copy, no transfer. Available at introductory discount in store for $150L this weekend only!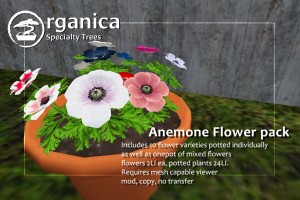 As a follow up to last week's RFL Anemones (which you can still get at Home and Garden Expo as an RFL exclusive item), this Anemone Flower fatpack is being offered at a hugely discounted introductory price for this weekend only. Fatpack and seperates will be available next week at normal pricing. Individual unlinked flowers are 2LI each. Pot settings are 24LI each. Requires a mesh capable viewer. Mod, copy, no transfer. ( Buy in Store )
Organica will also be participating in FaMESHed, Meshing Around Hunt and Nook & Cranny this coming month. Keep your eyes and ears open for more great deals and activities! I'll post more news as we get closer to the actual release.