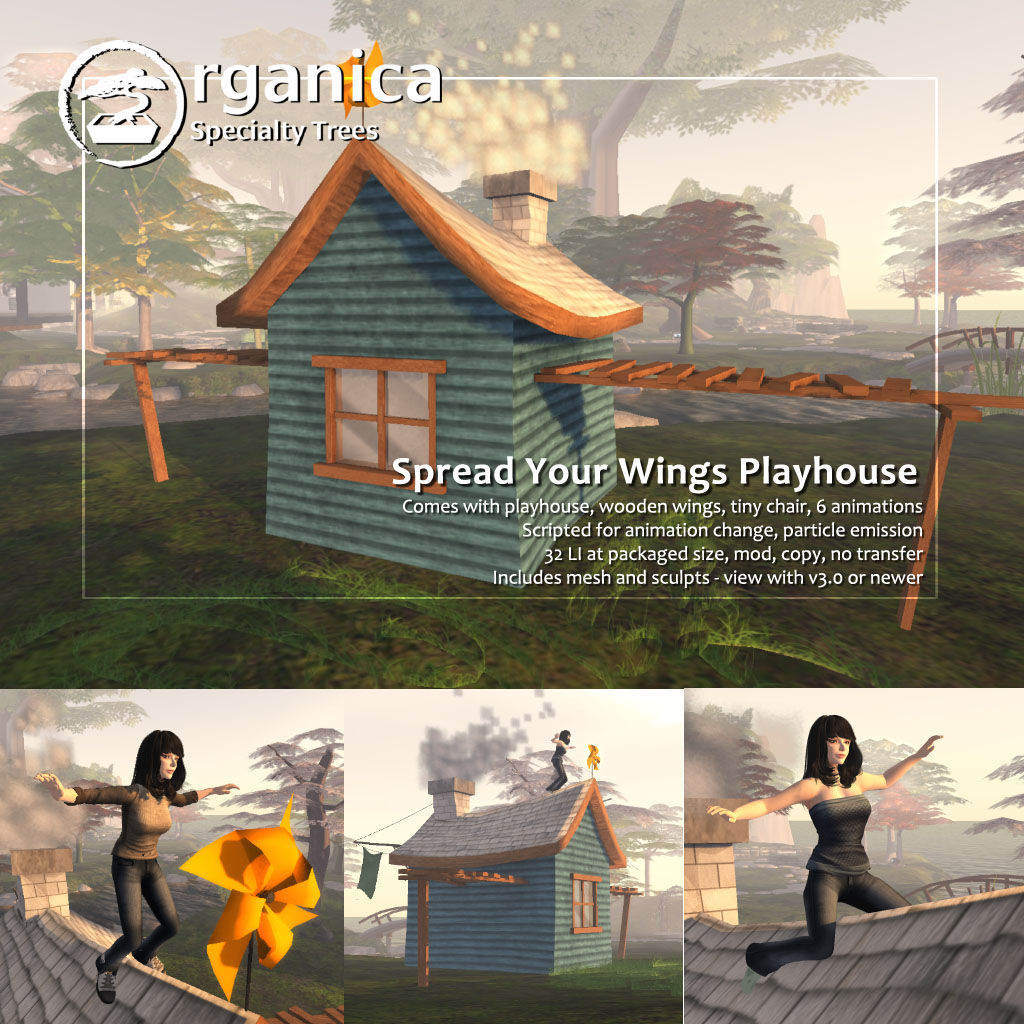 March's theme for Spruce Up Your Space is "Spread Your Wings", so I decided to play on the overall potential SL holds and tie it with the sort of wonder children often have when they are developing an imagination. Sometimes it doesn't take a lot to make something ordinary seem extraordinary and to help an imagine take flight.
This item  comes with a playhouse, wooden wings, tiny chair and animations.  The chair holds four animations – two each for child and adults (sit and drive). You can also sit on the roof, where you'll find two animations.
All pieces are mod/copy, although animations, scripts and associated notecards are copy only.
This is a mesh product, so you'll need a mesh capable viewer to view/use.  Available in-store for only $150L this weekend as part of March's Spruce Up Your Space! Will be updated on Marketplace after promotion is over.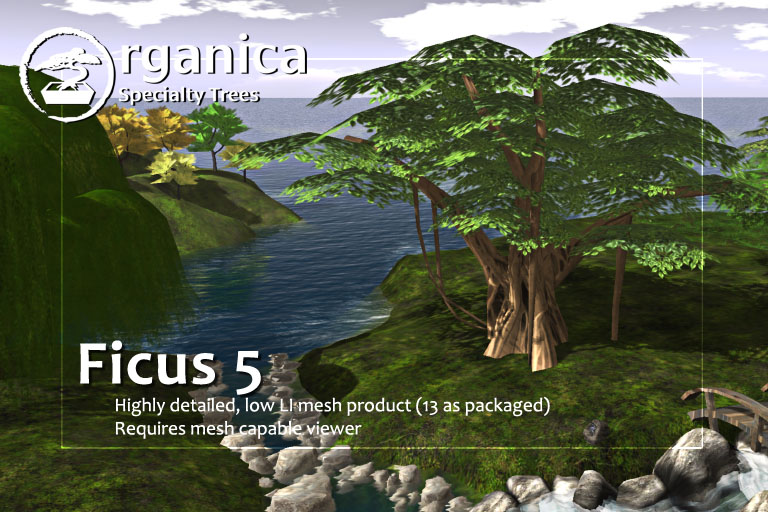 It hasn't been too long since I last put out a Ficus, but what can I say? I've always loved Ficus trees and it's almost mesmerizing to work out how their banyan roots can form complex knots in their bark.
This item comes out to 13 LI at packaged size and is optimized for resizing. It's available mod/transfer and mod/copy and is mesh only, so you'll need a mesh-capable viewer. ( Buy in Store )( Buy on Marketplace )
Land stuff:
Sylvan is a quiet, beautifully landscaped residential region offering a variety of parcel sizes with healthy prim allocation (1.75x prim bonus). We welcome mesh and breedables (please see covenant for terms) and also have a small sandbox available should you require additional space to work out builds, etc. Purchase price is a reserve fee set to cover one day of rent, which will be credited back to your tier meter once a minimum initial payment of 4 weeks rent is paid (all payment made after that can be as often as weekly).
| | | | |
| --- | --- | --- | --- |
| Parcel size | Prims | Weekly price | SLURL |
| Parcel 1B – 1024sqm | 410 | L$738 | SLURL |
| Parcel 2A – 960sqm | 383 | L$690 | SLURL |
| Parcel 2B – 960sqm | 383 | L$690 | SLURL |
| Parcel 3 – 1840sqm | 737 | L$1327 | SLURL |
| Parcel 6A – 1152sqm | 460 | L$828 | SLURL |
| Parcel 8 – 1696sqm | 679 | L$1222 | SLURL |
| Parcel 15 – 1680sqm | 672 | L$1210 | SLURL |