Hi Folks!
This update is sort of sparse, but mostly because I wanted to get the news out about this one release while I work out a larger release aimed at mid April.
This week, I've released this special edition of pink tulips offered exclusively for the Relay For Life campaign.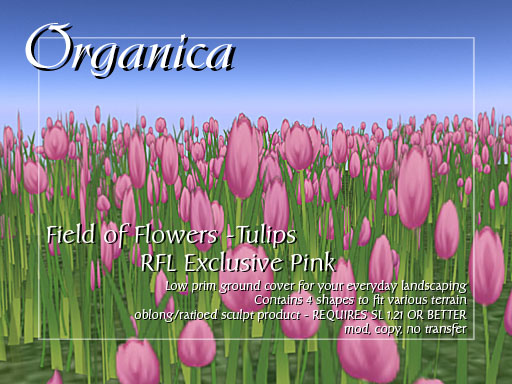 Much like the previous flower releases, this set of flowers comes with 4 sculptie shapes to best fit your landscape shape.  These are made of oblong sculpties, so you will need SL 1.21 or better to view them properly. They are also mod/copy/no transfer.
Though other colours will eventually be available, this particular pink will ONLY be available during the Relay for Life campaign, after which it will be shelved completely.
Chances are you or someone you know has been affected by cancer in some way. Even if not, the Relay for Life is a worthy cause to donate to.
The minimum donation on this item is $200L – which amounts to about $0.75 USD – though of course you're very welcome to donate more if you wish.  Alternatively, if pink flowers aren't your thing, there's also a donation kiosk right next to the RFL vendor.
I'll be adding more RFL items in the near future, and I'll continue to update you about them as they are made available.
These vendors and kiosks are available at both the main store in Sylvan and Organica East.
I hope you will join me in showing your support for fighting cancer!