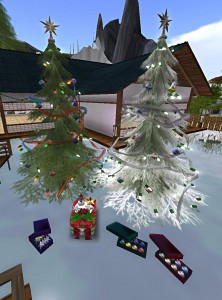 Happy Holidays!
A few updates to the store inventory are as follows:
Two Christmas trees, available in green and frosted, are now available for sale! They are mod/copy and feature sculpted ornaments, garland, lights, and star on top!
Additionally, the ornaments are also available seperately; There's a set of star ornaments and two sets (one bright, one pastel) of tapered ball ornaments available!
Some of last year's selections are also available.
Also be sure to  grab the free gift while you're at it! (You'll have to pop on by to see what it is 😉 )
Everything is on display out in front of the store, so do drop on by!
As always, you can reach Organica by using the following SLURL:  http://slurl.com/secondlife/Organica/127/138/24