I'm pleased to announce that Organica will be taking part in this year's Candy Fair, held on the CandyWood and Sugar Rush sims. The event strives to feature content of all kinds focused around the theme of sweets and treats!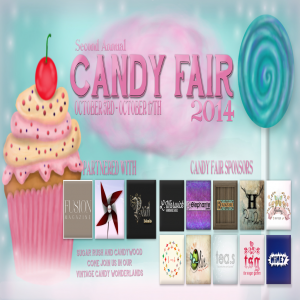 Along with a number of other existing treats, Organica will feature the following new releases, which will be exclusive to the Fair for the duration of the event, after which they will make their way to the main store for general sale. Here's a look at what's in store for you:
Belvedere Couches: Candy coloured versions of these couches will be available at Candy Fair. As with previous editions of this set, each package includes a leather couch and armchair, with original singles animations. Pieces range from 4-5LI at packaged size. Mod/Copy, with some copy-only scripts.
Glass Front Fridge: This is one big fatpack of fridges that come with scripted doors, plus various beverage and food components to get your kitchen started. Great for a home kitchen, restaurant or store! Mod/Copy with some Copy-only scripts. Mesh, Materials optimized.
Gelato Case: This mesh gelato case comes with scripted doors and is optimized for use with materials capable viewers. Mod/Copy, with some copy-only scripts.
Candy Swirl Rounded Mugs: These mugs are 1 LI each and the package includes 8 colours, both as unscripted props and scripted worn items. Mod/Copy. Mesh, materials optimized.
Cotton Candy Machine: This 8LI cotton candy machine is scripted to dispense hand-held cotton candy on touch. These are a great addition as outdoor street vendors or as dispensers in restaurants or cafes. Mod/Copy with some copy-only scripts. Mesh, materials optimized.
Boxed Macarons: These treats are now available in classy boxes all put together in one fatpack of seven colours. They are unscripted props and can be de-linked as necessary. Mod/copy, mesh.
Milkshake Machines: These milkshake machine props are a great addition to any home or cafe! Includes five colours, materials optimized. Mod/copy, 2 LI ea.
Milkshakes: Three yummy flavours are included in this package, which offers both stationary and worn editions. Mod/Copy, Mesh, materials optimized.
Finally,
Souffle Gacha: Nine varieties of souffle are available not in the Organica store at Candy Fair but at the gacha garden, near the sim boundary between CandyWood and Sugar Rush. They are transfer-only, but can be exchanged at the Organica main store for mod/copy editions. 1LI each.
All Mod/Copy releases can be found at Organica's location at the Candy Fair here, while the Souffle Gacha machine can be found here!