Wilds of Organica returns to The Arcade this month with a brand new bipedal mesh tiny!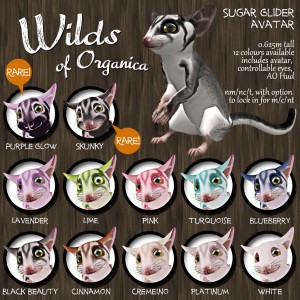 The Arcade is a quarterly event featuring dozens of excellent designers, providing hundreds of different prizes through gachapon style vending machines!
This time, I'll be offering sugar gliders as a prize. Each play is L$100 and there are a possible 12 coats to collect! Each avatar comes with mesh body, tail, customizable eyes and an animation overrider. Two rares are available – chances of getting one or the other are pegged at 5%.
Please note: While the vending machine dispenses transfer-only editions of these avatars, you can always lock-in your avatar by exchanging the transferable edition for the mod/copy edition. Doing this will also entitle you to any updates available for the avatar.
Do drop by The Arcade (it opens June 1 2013 and runs thru the month) and check out the great items being offered this time around! (It's not even completely set up yet and the offerings are already awesome!) You can also join The Arcade – Gacha Events group as well as explore the various gacha yard sales to trade, buy or sell items if you wish!
Full info about this avatar here!