Organica is taking part in this year's SL Home and Garden Expo at Hope 8 region!
There are a few new items that can only be picked up at the Expo for the duration of the event, so do drop by and check things out if you have a chance!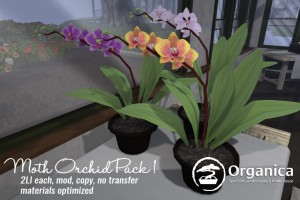 This Orchid pack includes three varieties of orchid! They're 2LI each at packaged size and make great accent pieces in any household! Mod, copy, no transfer.
100% of proceeds from the following two items are donated to Relay For Life: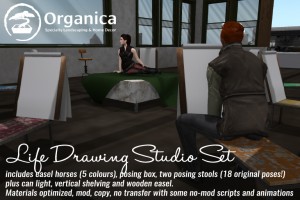 This Life Drawing set includes easel horses in 5 colours (with retexturable paper fronts), a posing box, two posing stools, a can light, vertical shelving and wooden easel. Materials Optimized. All are mod/copy, with some copy-only scripts and animations.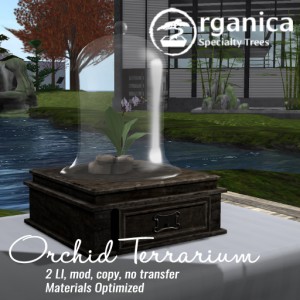 This terrarium is great for display anywhere in the home or greenhouse! 2LI as packaged. Materials Optimized, mod, copy, no transfer.
Visit Organica at http://maps.secondlife.com/secondlife/Hope%208/79/140/23 from now until March 6!
Also, be sure to check out the Home & Garden Expo website for full expo event listings!