Thanks to all who helped to make the SL House and Garden hunt a success!  It was crazy busy and I'm really happy to have heard the feedback surrounding the hunt item!
I realize two releases in as many weeks is more than normal – hopefully this doesn't come off as being too spammy – but I am going away for SLCC this weekend and would rather put out something for you now than wait until afterward.
Two new items are now available;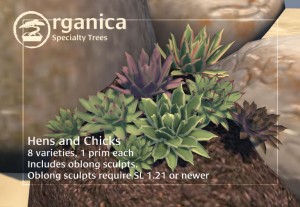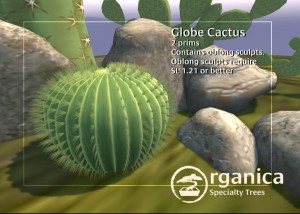 These are great for ground cover in a dry, rocky or sandy environment. Both are available now both inside the store and out on the grounds.
Related to releases, some of you have noticed that the bougainvillea gate vendor disappeared this week; this is because RFL has concluded. All told, total sales for the item raised $36000L for the American Cancer Society's Relay for Life!  Thanks for your support! The gate will now be made available normally in both mod/transfer and mod/copy editions.
Also, as the SL House and Garden hunt promotion has concluded, sales for the Alder bonsai have also resumed as per normal in both mod/transfer and mod/copy editions.
More items will be on the way some time after SLCC.
As always, these and other items are available at my store in Organica.