Hi Folks!
Thanks for your patience over the past couple of weeks in regards to the vendors.
Switching to the new vendor system was less painful than expected, but I'm still ironing out some final details.  All vendors should be operational though.  Gift certificates for the new system are now available – as a reminder, any old gift certificates sold prior to September 2010 are now invalid. If you'd like to redeem them, you'll need to IM me (Aki Shichiroji) and drop the gift card on me in-world so that I can give you an equivalent (and valid) one.  Please note – from now on, all gift certificates are valid for 365 days from first point of use. These cards will not be renewed or extended beyond this length of time.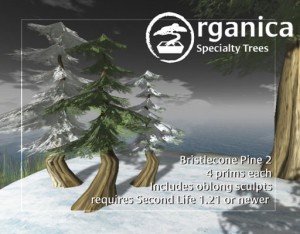 As promised, a new item is now available; This post's update is Bristlecone Pine #2 – it's a great compliment to the original Bristlecone Pine and will lend itself well to a boreal forest environment.  It comes green, frosted or snowy, in sizes small, medium and large. Texture change editions are also included.
Of note: recent announcements regarding the impending mesh beta have likely reached your eyes recently. I'm really looking forward to being able to provide new and more efficient products. Despite argument from a few parties otherwise, mesh promises to really be a game-changer as far as content is concerned. I think we can all look forward to new and interesting things in all sectors.
I'll be mostly away this week due to some work commitments, but hope to sit down and work on new stuff soon.  If there's something in particular you think might be neat to see at Organica, shoot me an IM or notecard and let me know – now's a great time.