Greetings Readers!
It's nearly December again, and that means we're set for another round of The Arcade!
This time around, Wilds of Organica will be offering a Yeti avatar: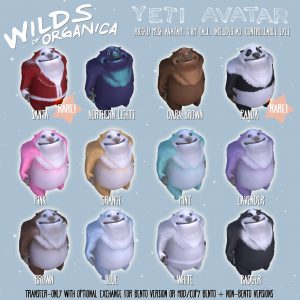 This av stands 1.8m tall and comes in 12 different coats! It's a bipedal avatar that comes with eye control & animation override – It also comes with the option to exchange for *either* a Bento-enabled transferrable version *OR* a package containing both non-Bento and Bento-enabled mod/copy avatars! Pick up this avatar at The Arcade from Dec 1 thru 31st!
What is Bento?
Bento is an extension to the standard Second Life Avatar Skeleton that adds many new bones and attachment points that has been in the works over the past year; while it is not officially released, the project is in the Release Candidate stage and viewers for the project are available from the Second Life alternative viewers website.
The base avatar being offered straight out of the Arcade machine will be Non-Bento. If you wish to try out the new Bento functionality, please be advised that it will work if you are using a Bento viewer, however you may look odd/squished to those around you who aren't using a Bento-enabled viewer yet! Also, it should be noted that all eye-blink/facial animation included with this avatar uses Bento, so if you'd like the full functionality, you will need to switch! Instructions for exchange to a Bento-enabled transferrable OR for the mod/copy pack are included with your package!
Moving forward, some of you have been asking about other projects I've covered over the past couple of months: of note, the wyvern & centaur avatars. These are still being worked on and hopefully there won't be too many changes in the workflow, however I should note that the tools used for this development are still somewhat in flux and since these rigs both push on the limits of what Bento can do, it's important to hold back and do things right rather than to rush in to final release for them, because the rigs for both have had to be redone a couple times now. Many other Bento-related things are on the way over the next couple of months, so keep your eyes on this blog and my Youtube channel for further details.