Organica has a spot at this year's Home and Garden Expo!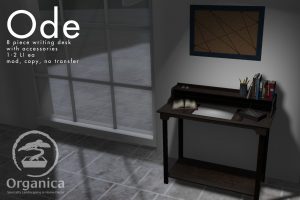 This new 8 piece writing desk set includes corkboard, books, pencils, fountain pens, blotter, notebook and ink, along with a classic wood writing desk that's great for any home!
Pieces range from 1-2 LI each and the set is mod, copy, no transfer.
Among many other RFL donation items, these two new hens and chick items are great for both indoor and outdoor use! 3-4LI each, they are mod, copy, no transfer and 100% of proceeds from the following items will go to the Relay for Life!