Grass Tops
This newest offering from Organica has been a long time in development. Back a few years ago, I released a couple of Erosion sets, which serve to create transitions between higher and lower terrain, offering opportunities to create a terraced effect between land & land as well as land & water. At the time, the greatest aim was to create such items such that LI could be kept low. With those goals in mind, the erosion sets have gone on to do very well.
With that said, I've since received requests for similar items with grassy fringe, which would create a better blend between the top texture and the rock texture, so I've taken some time to create and test a new set of grassy top items, as follows: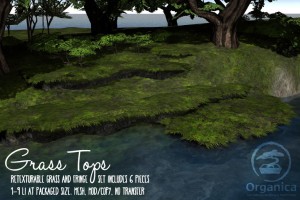 These pieces range from 1-9 LI at packaged size – This is a bit higher in some cases than the original erosion sets, however with the increased degree of geometry, it is unavoidable. (If LL offered the opportunity for content creators to apply an alpha mask to a material separate from a diffuse texture, we would be able to make further LI savings, however that appears to be outside the scope of potential tool development at this time). These items feature baked soil/rock texture and the usual leafy texture that is offered with the original erosion pieces by default. All pieces have a tapered edge for easier blending and placement. As with the erosion sets, you can also apply your own terrain texture if you wish. Six shapes are included to give you the most flexibility while landscaping. Check them out in-world here or on Marketplace here!
Additionally, two new types of flower are now available!
Hyacinths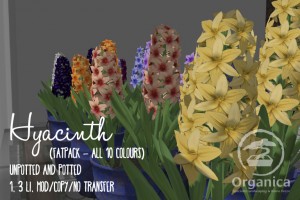 Each package offers both potted (3 plants per pot) and unpotted (individual plant) items and there are ten different colours to collect, mix and match, both separately as well as in a fatpack! 1 and 3 LI each, Mod, copy, no transfer, available both in-store here and on Marketplace here!
Morning Glory
Featuring signature trumpet-like flowers, these vines grow around an intricate wrought-iron trellis and grow from a beautiful, ornate planter! Available in four varieties, materials optimized. 7 LI each, mod, copy, no transfer, available both in-store here and on the Marketplace here!