Hi Folks,
I'll start off with some housekeeping – It's been a busy couple of weeks for me, moving the shop, setting up a whole new vendor system, making new content for the build as well as upcoming events…
So it's it's with some satisfaction that I can say Organica region is once again open. I've opted to stick with open and organized for the moment, some areas are still undergoing refinement, and a new store directory is in the works, but all vendors are now functioning.
I was able to port over all existing store credit from E2V to Caspervend, so you should be able to spend your remaining store credit at your leisure. There HAVE been some significant changes as the result of the vendor service swap, however:
– Gift cards are now available in L$250, L$500, L$1000 and L$2000 denominations. For other denominations, please contact me directly.
– Redeliveries are now available by clicking on any vendor and clicking on 'Redelivery'. Please note: ALL gacha items still reside on the original gacha vendor service, which is seperate from Caspervend offerings. Fresh, updated, mod/copy gacha items are still available by rezzing your item in the exchanger circle.
– Store credit can be increased through the use of gift cards. It will no longer accrue by the purchase.
– A permanent 5% discount WILL be applied to your account (and credited back at time of purchase) after a minimum of L$5000 in purchases has been accrued. Additional discount tiers may or may not exist 😉 ( Customer Rewards Program )
– Because they do not share the same vendor service, all gacha items are exempt from the customer rewards program.
Organica is now set up at Home & Garden Expo (a day early even… woot!) with a few new releases!
The Altadore Bedroom set includes bed, nightstand, drapes, lamp, rug and chest of drawers. The bed includes single and couple animations, the nightstand and chest have drawers which open/close, the lamp turns on/off on click.  Pick up the classy and conservative Charcoal edition or the sassy and creative RFL edition! 1-8 LI, Mod, copy, no transfer, with some copy-only scripts.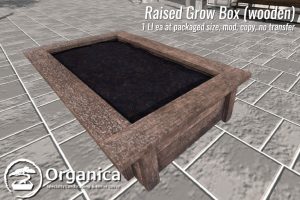 These new raised grow boxes have been serving me well in terms of display and they would work well in anyone's back yard, whether you intend to use them for vegetables or any other sort of plant material. 1 LI ea, mod, copy, no transfer.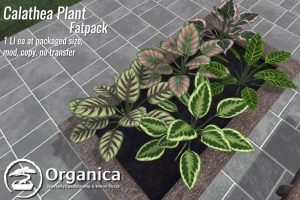 Calatheas are stunning tropical plants with a great degree of variety. I've chosen a small sampling for this first pack – please let me know if there are particular calatheas you'd also like to see. I tried to keep this initial pack small just to start, but may be open to offering more.
Each of these mesh plants are 1 LI each and they are mod, copy, no transfer.
These two RFL exclusives are also available – ONLY for Relay for Life events, so do be sure to pick them up while you can!
These new items are available at Home Expo  for the duration of the event, then most will make their way back to the main store and Marketplace!
Organica may be found at Home Expo 3 region this year. Home & Garden Expo runs May 19 from 8AM SLT thru June 2 at 12AM, SLT. Do drop by and say hi!