Re-opening day is almost here – just a few hours away!
As I mentioned in a previous post, I'm very pleased to announce that Winston Ackland will be performing at the Organica open air stage at 12PM SLT.
In addition to this, quite a number of new items have been added to the store as part of the opening, along with a store-wide hunt, which gives you the chance of procuring your very own copy of the following item! To grab this item for free, visit the Organica store and seek out a possible six clue-givers (you can see what they look like in-store) which will each give you a single word, which is a part of a sentence. Piece together the sentence and put it in the right order, then click on the Hunt kiosk to input your answer! If you're correct, you'll be given a copy of the Country Bed (black and white edition). This hunt will run for one week (until MIDNIGHT, Sept 21 2013), after which the black & white bed won't be available any more.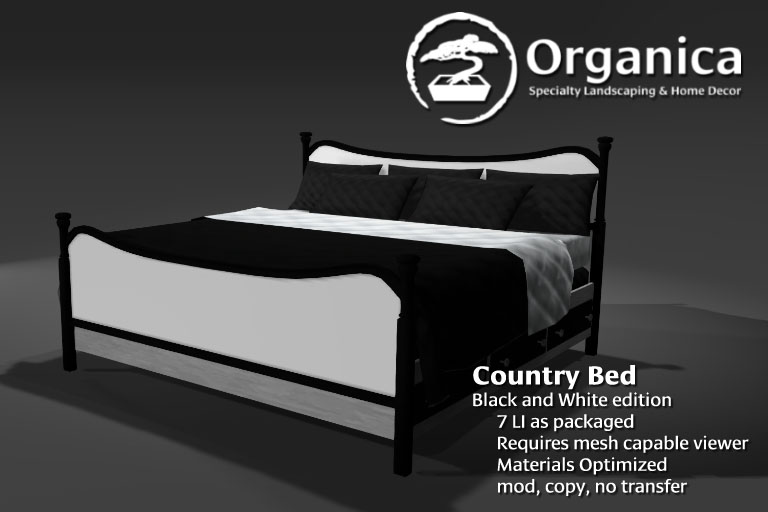 This is a classic, country-styled king sized cuddle bed, containing various single and couples poses. The bed features all original animations, AvSitter compatability, detailed textures and Materials optimization.  Beds available for purchase are available in two treatments – Gingham and Antique White wood. Four bed-spreads are available for each wood style, including white, green, blue and quilt. Beds are offered seperately or as fatpacks. Available mod/copy. *Black & White edition is a hunt-only item!*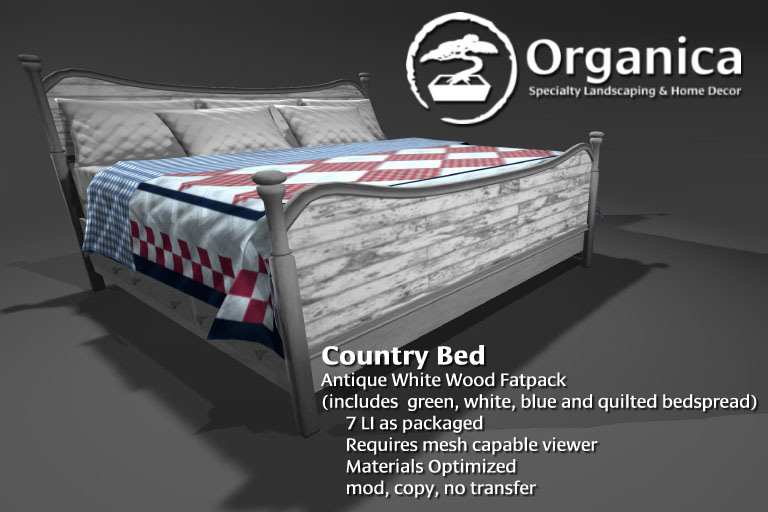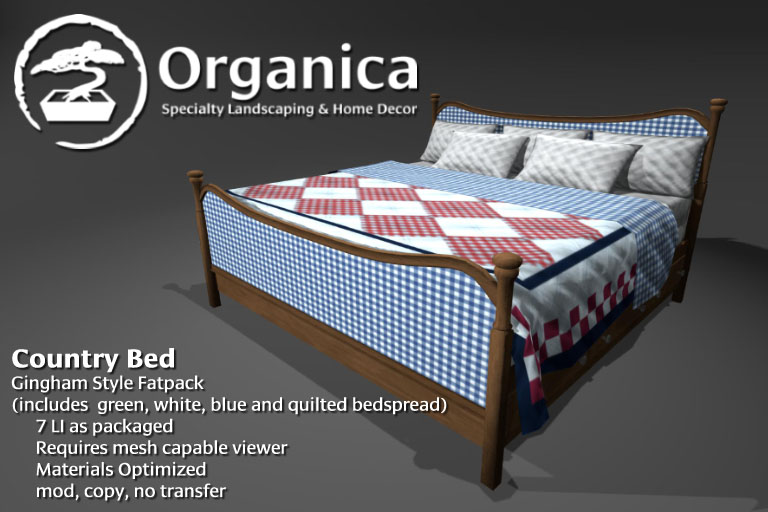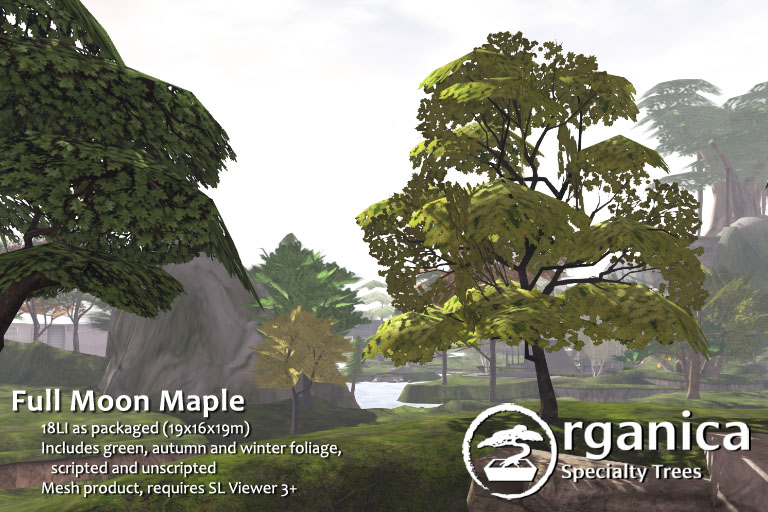 It's been more than a year since a new item was added to this species line and given developments in mesh and viewers in general, an update has been well overdue. This moderately large tree features large, wide maple leaves, four different foliage options, scripted and unscripted versions, and as usual, efficiently modelled mesh.  The tree is 18LI at packaged size (19x16x19m) but can be easily resized to suit size and prim needs. Offered both mod/copy and mod/transfer.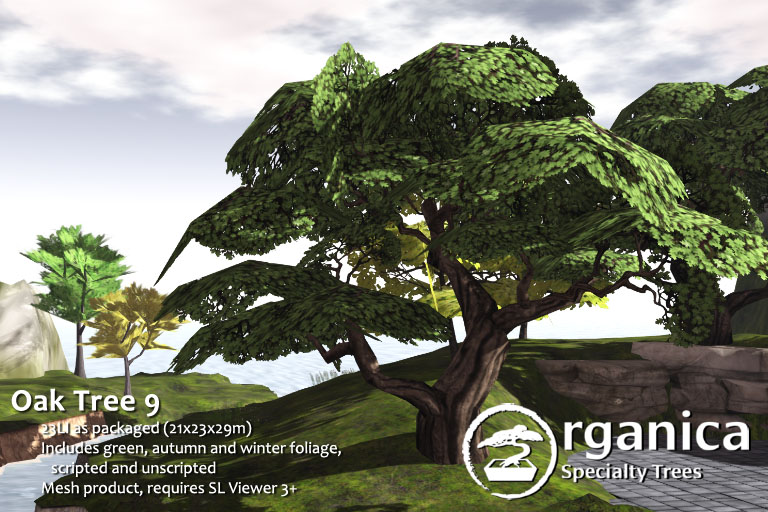 I'm always after a suitably old-growth tree 'look' and the oaks are often my outlet for this expression. In this case, this large tree (packaged at 21x23x29m) comes in at 23LI and includes three foliage options, again available scripted & unscripted. Offered both mod/copy and mod/transfer.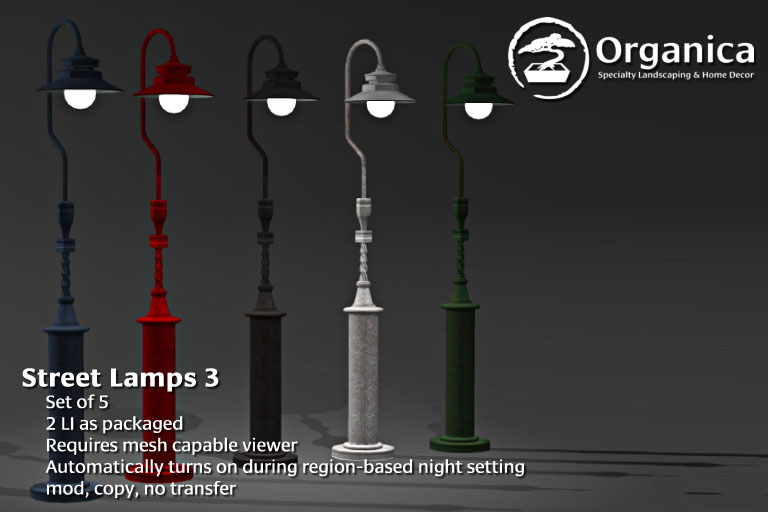 Newest in the line of streetlamps produced by Organica, these lamps can be viewed throughout the exterior of the new shop. 2LI as packaged, with some flexibility for further prim reduction. Each lamp is scripted to check for region time of day and turns on at night. Five colours are offered in the set and they are mod/copy.
To promote the new shop design after a month of downtime, these items will only be available in-store for the following week, after which they will be posted to Marketplace. In the mean time, you are invited to participate in the festivities on Saturday (live music at 12PM) as well as this week (the store-wide hunt)!