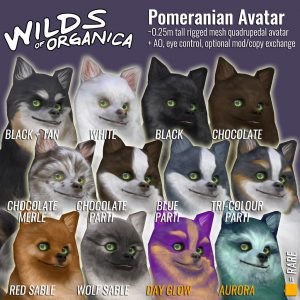 Wilds of Organica will be participating in June 2016's round of The Arcade with this new set of Pomeranian Avatars! As part of this gachapon event, each play from the Wilds of Organica machine will provide a randomly selected prize from the pool (there are two rare items this round) that includes:
A full mesh quadrupedal avatar
matching animation override & eye control HUD
Optional mod/copy exchange
Be sure to visit The Arcade starting June 1st thru 30th at The Arcade region in SL!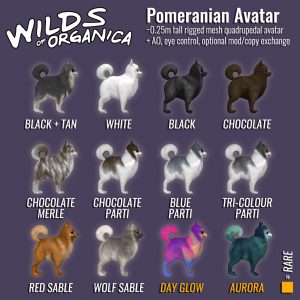 Additionally, Wilds now has a Facebook Page! The new page is here at https://www.facebook.com/WildsOfOrganica/
I know I recently posted a couple videos over here and for major stuff I'll probably still post to the blog and link from Facebook and the subscriber kiosk, but sometimes I have work in progress shots that don't warrant full blog posts or in-world notices, so with the Facebook Page, I'll be able to post those plus update those of you who don't get the chance to log in all that often to see new notices.