New this week at Wilds of Organica are these Bento-enabled webbed wings! They work great as bat, dragon or demon wings and come in eight different colours, sized for both smaller and larger avatars. Each set also comes with a basic wing AO HUD, which includes both normal overrides as well as specific standard poses.
Please note: Due to an existing bug with system animations not resuming properly, it is highly recommended that this product be used alongside your favourite human animation override, as unexpected results may otherwise occur.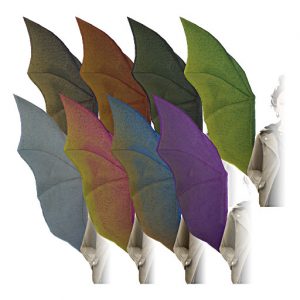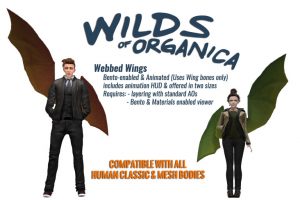 These wings & HUD are mod, copy, with some copy-only scripts.
They're available right now at Wilds of Organica!
Additional news of note:
A complete update of the vendor system being used by Wilds of Organica's non-gacha items has been done. This allows all shoppers of *both* Organica and Wilds of Organica to spend and apply loyalty credit wherever they wish between the two shops. So if you have shop credit from Organica but want to pick up something at Wilds of Organica, you can do so by left-clicking the appropriate vendor to initiate this process.
With that said – please note that this does *not* apply to the Gacha machines, which will continue to operate separate as they have done in the past. 
Remaining WoO gift-card holders should contact me directly to have their remaining credit applied to the new system prior to attempting gift card redemption.
Happy Shopping!