Organica has been around for quite a while – since October of 2007 in fact! But did you know Organica Specialty Trees is affiliated with an accessory shop as well?
In fact, Kitheres Industries was my first project! Some time last year I decided to consolidate the shop and move it to a single spot located at Fort Stygian in The Wastelands. For a number of different reasons, however, it had to be put on the backburner and I haven't really had the chance to add to the shop until recently. I've added a new product and I'll talk about that in a sec.
I've decided not to keep two seperate blogs for updates and will be posting about both brands on this blog from now on. I will not be combining the subscriber groups, so if you are only subscribed to one brand, you will only recieve notifications for posts which contain relevant material. You are, of course, welcome to sign up for notifications for both.
The blog has been renamed 'Kitheres and Organica', which more accurately reflects my branding on Marketplace, however in-world both brands will operate as usual. Over the next few weeks, I will be sorting out proper categories for existing Organica posts and recently imported Kitheres posts, so hopefully things will remain organized and accessible to all.
With that said, let's get to the new releases!
Kitheres: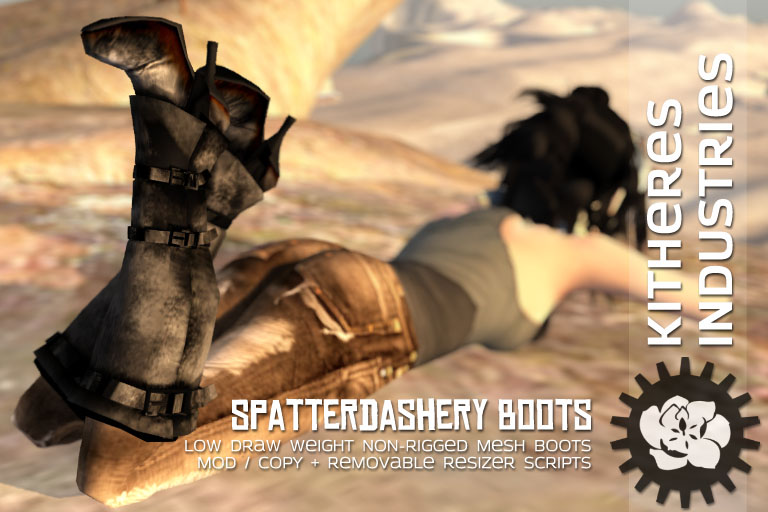 Spatterdashery Boots are named such because they include a belt-bound spat along the length of the lower leg, covering the ankle region and reaching upwards, providing added material for the wearer.  These grungey boots are great for everyday wear and especially optimized for use in crowds due to their relatively low draw weight compared to comparable sculpt products. Available in three colours, these boots are 100% mesh modelled and textured from scratch. Left unrigged for easy resizing, the boots are mod/copy and contain removable resizer scripts – so you can use the script to resize the boots for you if you're not confident with building things (then remove the script once you're done) or you can remove the script entirely and just resize the boots as needed using build tools. ( Buy in store ) ( Buy on Marketplace: Demo – Charcoal – Hazel – Olive – Fatpack )
Organica: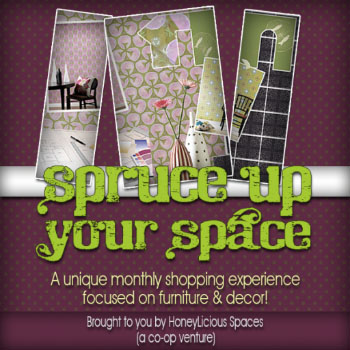 Organica has joined Spruce Up Your Space and will be a participating merchant this weekend!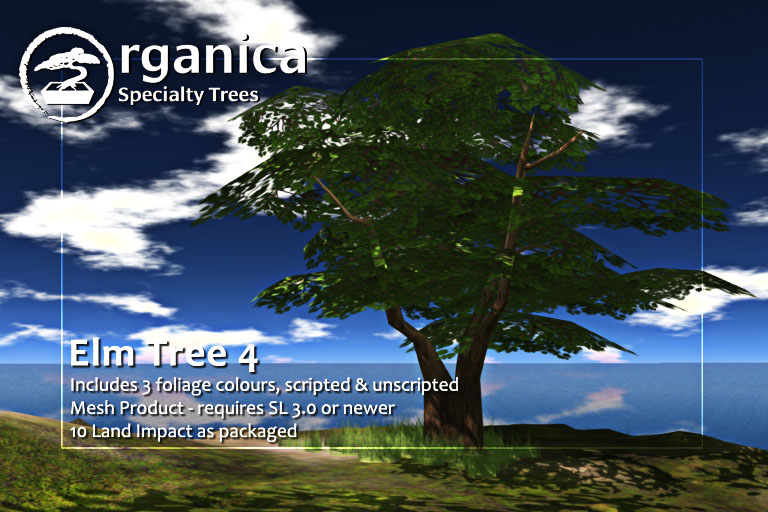 This Elm tree is wonderfully lush and detailed – it's a great item to help create shade and atmosphere to a mature looking landscape! Full mesh, includes three foliage colours both scripted and unscripted. As this is a mesh product, you'll need a mesh viewer to view.
This item will be available mod/copy on sale for L$150 for this weekend only! This introductory price will go away after Sunday, when I'll add back a mod/transfer edition, so be sure to pick this one up before the sale ends! (Please note: sale is in-store only! This product will be added to the Marketplace next week 🙂 )
Other non-sale releases: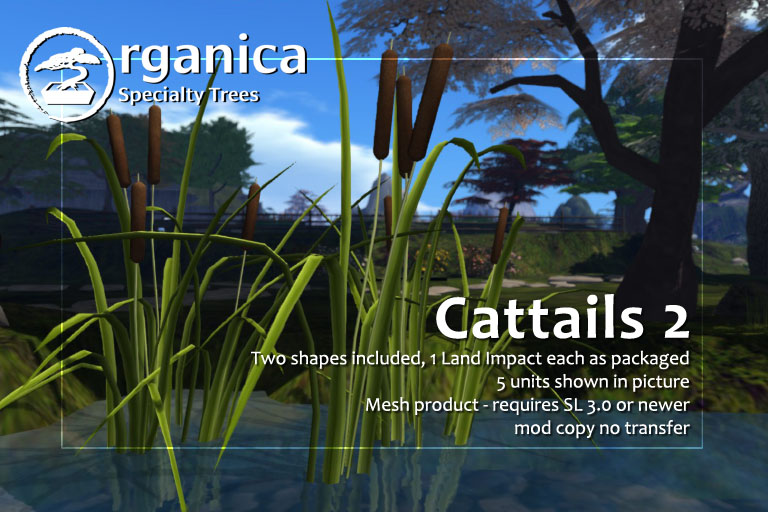 As mesh items with no transparencies, they don't conflict with water surface rendering or other plants which use transparency, so they work really well as highlight pieces right next to the existing Cattail 1 set! This product includes two shapes for variety and each piece is 1 land impact at the size packaged. ( Buy in store ) ( Buy on Marketplace )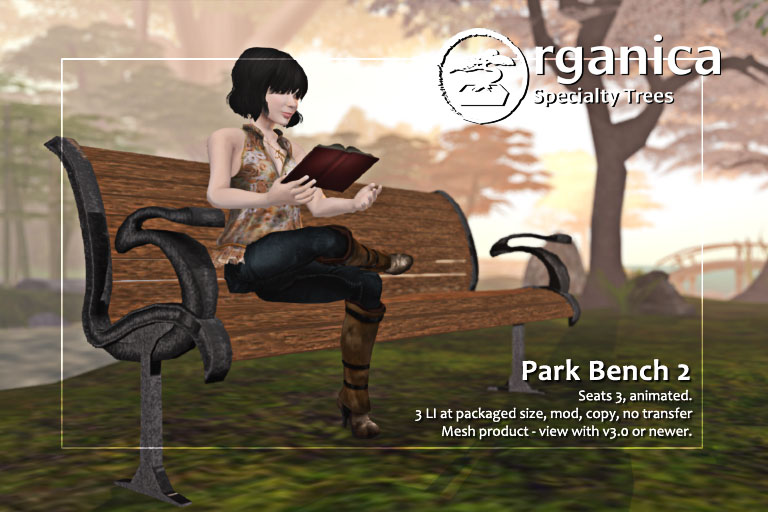 This new park bench is a wonderful addition to every outdoor area! Carefully modelled and textured, this bench seats and animates up to three people. Includes attachable book. Full mesh, so be sure to use a mesh capable viewer! Mod / Copy ( Buy in store ) ( Buy on Marketplace )
Land:
If you're looking for the ideal spot for a quiet and wonderfully landscaped home, check out the land offerings below:
Some of the larger parcels have been recently vacated and have been split; they were originally offered at a larger size prior to a change in prim bonuses. As a result, I am pleased to offer four new smaller parcels in the north-east and south-east corners of the sim. They are all waterside to some degree and, located in a 1.75x prim bonus sim, all boast a healthy prim allottment. (Please note: Parcels 1A & 1B as well as 6A & 6B can be merged upon request if still available.) The details are as follows: Details and SLURLS below:
| | | | |
| --- | --- | --- | --- |
| Parcel size | Prims | Weekly price | SLURL |
| Parcel 1A – 1536sqm | 614 | L$1105 | SLURL |
| Parcel 1B – 1024sqm | 410 | L$738 | SLURL |
| Parcel 2B – 960sqm | 383 | L$690 | SLURL |
| Parcel 6A – 1152sqm | 460 | L$828 | SLURL |
| Parcel 6B – 1152sqm | 460 | L$828 | SLURL |
| Parcel 8 – 1696sqm | 679 | L$1222 | SLURL |
| Parcel 15 – 1680sqm | 672 | L$1210 | SLURL |
A land office has also been established in Organica in the News/Gift shop. (SLURL)
More information about land in Sylvan can be found here.