Hi all!
I've been away a bit this month and pretty busy with work, so I have a short update this month.
Before I get to the new releases, I'd like to announce that Niccia Straaf has won the draw for a $1500L value voucher at Organica for submitting an answer to the survey posted last month via the Subscribomatic. Congratulations, and thanks to everyone who sent in their replies!
Two new tree products have been released –
The Hollow Tree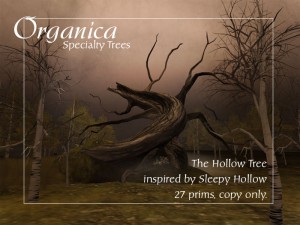 Check out this full scale reproduction of the hollow tree from Sleepy Hollow!! Complete with fog generator, skulls and severed heads, this is the centerpiece you need for your halloween display! Offered no mod/copy/no transfer.
Birch #2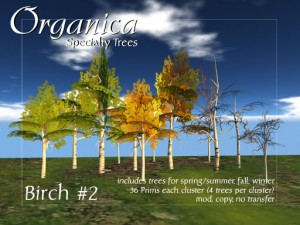 These new birches feature all new textures and sculpts, once again in spring/summer, fall, and winter styles. They are clusters of four trees each and available mod/copy/no transfer and mod/no copy/transfer.
More to come soon, I hope, so keep your eyes open for new notices!
Thanks for your interest!
Aki Shichiroji
Organica Specialty Trees