Having moved to my current home in late 2018, I have since been thinking of ways in which I could better make my back yard work for my needs. As I may have discussed in the past, having a yard was pretty important to me because I needed space to develop my bonsai hobby and be comfortable in my container gardening in general.
Lately, I've been thinking about DIY alternatives to buying greenhouses, and making such a design work within my available funds and space. I'm not sure that I would be able to start on such a project right away if I did have the money, but I've been finding it helpful to plan things out and figure out the pricing ahead of time.
This greenhouse came out of that line of development. It's probably not the solution I will end up with if I do move ahead, but I'm happy that I was still able to come up with a solution *someone* might be able to work with. (Plus I can *make* it work for my situation in-world too, right? 😉 )
Anyhow, this package includes a version of the same greenhouse oriented such that the door is on one or the other side, making placement a bit more flexible.
Of note: Because of the semi-transparent plastic texture, I recommend that any plants placed inside or adjacent to this building have their textures switched from Alpha Blending to Alpha Masking, so as to avoid alpha texture laying issues (where one texture sometimes appears to supercede others in front of it).
Both houses are 10LI and mod/copy, with a copy-only door script, which can be removed if need be.
These watering cans are unscripted props that are great, simple additions to your garden. Four colours available, 1 LI each, mod/copy.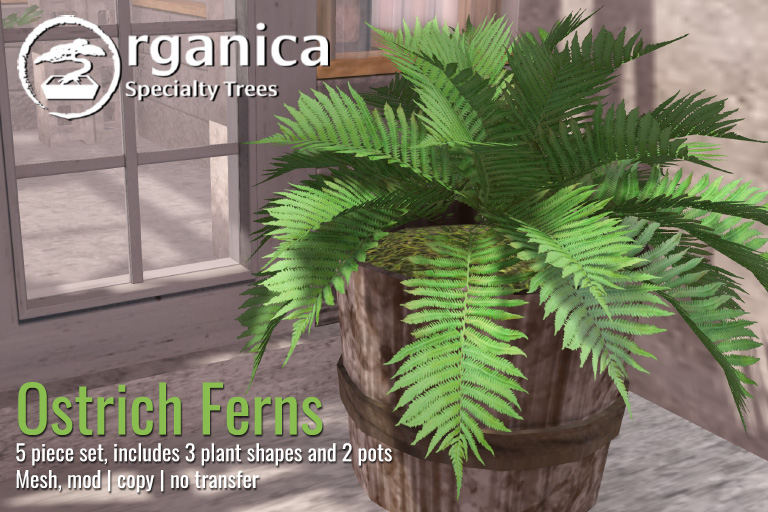 Organica has had field-type ferns for a while – I was out in my garden the other day and realized it would be helpful to have some that grew more in clusters or were more suitable for container plantings.
These come with three plant shapes (young, growing, mature), where the fronds can be found in a variety of growth periods to best fit what you want to place them with. I've also accessorized with a hanging and standing planter, but they would do fine planted in the ground or in a raised bed as well, for example.
All pieces run from 1-2 LI each at packaged size.
All of these releases are available in-store now!
Specifically, the ferns and watering cans can be found here: http://maps.secondlife.com/secondlife/Organica/109/60/29
and the greenhouses can be found here: http://maps.secondlife.com/secondlife/Organica/78/52/29
All three products are also now available up on my Marketplace listing, here.