As I touched on last week, Organica, Wilds of Organica and Akimeta stores on Organica region are now participating in a 25%-off sale across the board (with the exception of gacha machines)!
The sale will proceed until May 5, after which the region will be temporarily closed in order to facilitate a vendor system switch-over and to reassess existing offerings.
Just a reminder – Some older items will be retired from active display (to be made available only on the SL Marketplace) and other items will be removed from the Marketplace entirely.
Drop by today to take advantage of the discount and be sure to check the credit terminal (indicated below) to see how much credit you can apply to your purchases.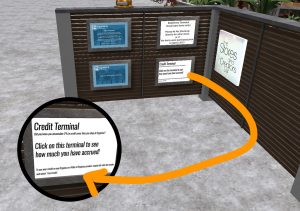 You can use your credit on any non-gacha purchase from Organica or Wilds of Organica by left-clicking the vendor and clicking 'Use Credit'. You will be asked how much credit you want to use and any remaining balance will need to be paid before the vendor will dispense the item.
Click here for a direct SLURL to Organica Region!
---
On an unrelated note outside of the sale, Organica will be appearing at the SL Home and Garden Expo, beginning May 19th. Please keep an eye on this blog for new releases, which will make their debut there!
In the mean time, I'll continue to document my process and development here on the blog on a weekly basis.
---
If you enjoy what I'm doing here or think someone else might also find it of use, please feel free to share this blog with them. If you'd like to keep up to date with posts, the RSS for this blog is here, I can also be found on Twitter and Plurk. The Discord server is here.
If you really like my stuff, perhaps consider donating to my Patreon? Your continued support helps to produce weekly content (written, modelled, animated or otherwise) and helps to keep original content creation in Second Life!
Thanks for your support!