Wilds of Organica is participating in the current round of the Enchantment event!
This round's theme is Cinderella, and based upon Perrault's version ( Cendrillon ), here is Wilds' offering: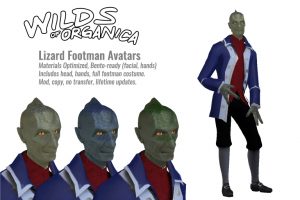 Tap in to your reptile brain and transform yourself in to a Lizard Footman!
This is a moddable mesh head and arms with footman costume. All parts are materials optimized and the head and fingers are Bento-animation ready. Costume can be detached with basic editing and the arms can be edited in sections to adjust visibility under other garments.
Mod, copy, no transfer, free updates.
Visit Enchantment from February 11 thru 28 at http://maps.secondlife.com/secondlife/Nymphai/51/127/2728 .
See you there!