Fantasy Faire is just around the corner – it starts tomorrow, in fact! (April 23 thru May 3 2015, beginning at 9AM SLT)
Wilds of Organica has a number of new items which will make their debut appearance there – here are a few details: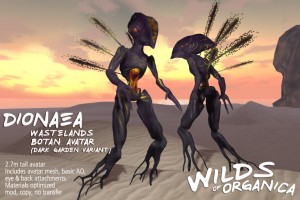 Botans are plant based creatures from The Wastelands ( http://maps.secondlife.com/secondlife/The%20Wastelands/102/150/74 ); their physiology is unique to all sentient creatures of The Wastelands and is reminiscent of tough insect-eating plants found in swamps. They're fast, vicious, and strictly carnivorous. They vary in appearance but beware their ferocity, incredible reach and their paralytic sting! (For more info about the Wastelands Botans, check out the entry for them on The Wastelands Wiki here: http://wiki.the-wastelands.org/index.php/Botans )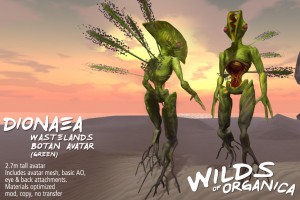 This avatar stands ~2.7m tall and includes the avatar mesh, a basic AO, as well as eye and back attachments. It's currently available in two colour variations, one of which will be available as a donation gift, with all proceeds going to Relay for Life! It is optimized for use with Advanced Lighting, but can be worn and viewed with Basic lighting as well.  This avatar is mod/copy/no transfer, with some copy-only scripts.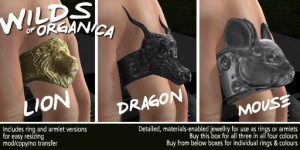 Since I've had the opportunity to model and 3D print small jewellry pieces recently, I decided I'd try my hand at creating some highly detailed but geometrically efficient pieces that could be used with many fantasy outfits (or just worn as is for fun). In all, there are three different rings, available in four different colours (gold, silver, hematite, bronze), plus one RFL-exclusive edition! Each package contains one copy of the ring sized to fit fingers and one copy of the ring sized to fit as an armlet (upper arm). These don't come with a resizer script, so you may have to position/resize to fit your own shape manually, but if you need help (and can send me your avatar shape), feel free to give me a shout for a fitting.
The rings are mesh and optimized for use with Advanced Lighting, but also feature baked textures that look great under Basic lighting. Each are mod/copy/no transfer.
In addition to these items, previous RFL exclusives will also be available, including the pink and lavender edition Perytons as well as RFL versions of all the masks.
You can check out all of the above here: http://maps.secondlife.com/secondlife/Aurora%20FF/224/14/48
Other Tidbits:
3D printing
As a tangent regarding the rings, I've successfully uploaded and have ordered a print of the Lion ring in real metal; I hope to have it in my hands in a few weeks. If all goes well and if there is enough interest, I'll make more sizes available , along with some minor customization options. I'm really excited to see how these turn out!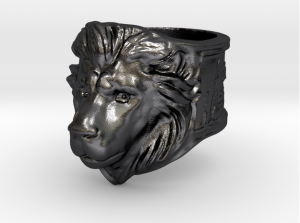 Is there a particular Wilds of Organica item you'd like to see made available as a tangible 3D print? Feel free to leave a comment or send me an IM!
The Home Show
Organica will be at the Home Show starting May 1 and running thru May 31! More details to follow.
Land stuff
Folks who have followed the development of residential land on the Sylvan estate (which is situated to the south of the Organica region) may know that the estate recently expanded to welcome a wholly new residential region called Sylvan Vale. We're only a month in, but already well on our way to establishing a wonderful place for many to call home. The region features small to medium-sized parcels in a fully landscaped alpine river valley environment for reasonable prices and can be reached by visiting the land office here.
Availability is limited – please feel free to drop by and give me a shout if you have any questions!